He Got His A** Kicked by Herb Dean"- Urijah Faber Reveals Bizarre Story
Published 07/16/2020, 1:16 AM EDT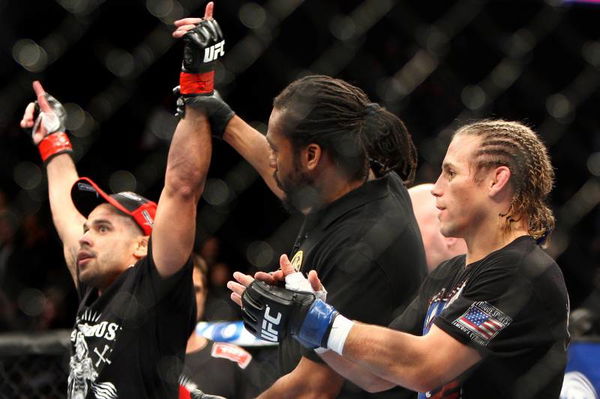 ---
---
Herb Dean has defined his own class. He has brought the work of a referee to the mainstream. Dan Engler in WWE, Howard Webb in Soccer, and we have Dean in MMA are other stalwarts. Herb is a former fighter himself. Though his fighting career is nothing to boast of, it did give him that IQ for making quality judgments in a microsecond's time. Although we will hear more about one of his early life fights from Urijah Faber.
ADVERTISEMENT
Article continues below this ad
He has attracted praises from the likes of Joe Rogan and has got innumerable articles written on his proficiency. He is a 6ft tall 49-year-old man with a net worth of $1.5 million. The man who is seen wearing latex gloves is a Brazilian Jiu-Jitsu black belt and holds experience with Judo and Karate as well. His experience of hundreds of matches makes him superior in his profession.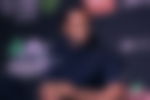 ADVERTISEMENT
Article continues below this ad
When Herb Dean angered Urijah Faber
In UFC 169, Urijah Faber fought Renan Barao for the Bantamweight Championship. The match became a controversial talk when a decision from Herb ended the fight. During the match, Barao held Herb with his right hand, jolted him, pushed him down, and punched him. Faber was looking in poor shape by then, but he was not ready to quit. However, Herb Dean chose to call off the fight. Barao defended his title, but this move angered Faber immensely.
In an interview with The Schmo, Faber told, "He's even done some bad calls on me. I particularly felt he's done me wrong, and he's also a friend of mine," he said. 
Do not mess with Herb!
ADVERTISEMENT
Article continues below this ad
It has been six years since that incident took place and Faber has moved on. He surely calls Herb Dean his friend and holds the respect for his job. Any which way, it is Herb's duty as a referee to ensure the safety of fighters because at times, it can get really dirty.
Faber remembers one such time in his college days when he first got to saw a video of Herb fighting a big, bulky, but inexperienced fighter. He said, "He [the opponent] got his ass kicked by Herb Dean and it was like, that was the first time that I ever watched that wasn't a UFC or organized and it was on a video cassette…Randy… got in the first minute, he got punched, kicked, elbowed, slammed, punched again, then submitted by Herb Dean." 
ADVERTISEMENT
Article continues below this ad
How fantastic for a ref to have such a history.