"He Has to Go Through Me." Justin Gaethje Calls out Conor McGrergor
Published 03/08/2020, 10:12 AM EDT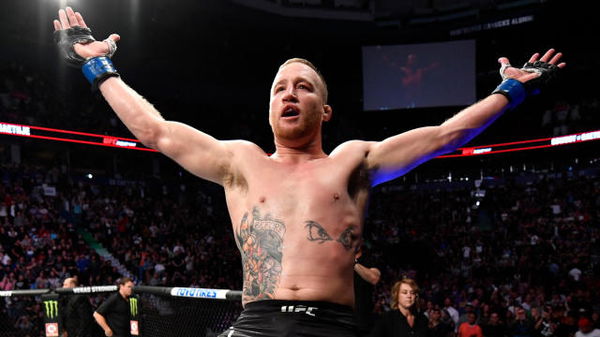 ---
---
UFC lightweight Justin Gaethje weighed in his opinion regarding Conor McGregor. The "Highlight" believes that he is in the perfect spot in the UFC's lightweight division.
ADVERTISEMENT
Article continues below this ad
Justin Gaethje is a top-ranked athlete in the lightweight division. He is coming off 3 back to back knockout wins over James Vick, Edson Barboza and Donald Cerrone. The last time he fought was in September 2019. Since then, the knockout artist has decided to sit out.
Gaethje is only interested in a title fight or fighting a big name like Conor McGregor. When Conor announced his return last year, Gaethje was among the first one to call him out. But due to some reason, the fight did not materialize and Conor fought Donald Cerrone instead.
ADVERTISEMENT
Article continues below this ad
Justin Gaethje on his current stand in the lightweight division
Dominance MMA, the company which manages Justin Gaethje and other great fighters like Khabib Nurmagomedov, Kamaru Usman and Henry Cejudo held a press conference at Park MGM, Las Vegas.
"I think I put myself in a great position to challenge for the world title," Gaethje told the media.
Gaethje is currently #4 in the lightweight division. He put the world on notice with his back to back victories. For him, It only makes sense to fight another top lightweight, possibly Conor because "The Notorious" is ranked above him at #3.
Gaethje said, "If he wants to go past me, he has to go through me."
The Conor fight is huge for Justin Gaethje, not only will it bring in a lot of money for the American but it will also solidify him as the next contender for the title.
The same applies to Conor. He has to fight a top contender before he can fight for the title. It is the only way to legitimise the ranking system and stake claim for a title shot.
Both men are big punchers in the UFC and both fighters pressure their opponents early. If this fight does go down, it will be a massive pay-per-view draw.
ADVERTISEMENT
Article continues below this ad
On paper, Conor is the better striker. However, Gaethje is no novice in that department either. Majority of his wins came by knockout. Every strike will in the fight be thrown with the intent of knocking the other person out.
There is also an x-factor regarding Gaethje's wrestling. Gaethje is an elite wrestler who never utilises it. Ultimately, this may favour Conor more than it favours Gaethje.
Since both men do not have a fight scheduled and the UFC returns will return to Ireland this August, it is the perfect time to set up McGregor vs Gaethje.
ADVERTISEMENT
Article continues below this ad