"He Knows His Dad Was a Cheater"- Cody Garbrandt Gets Personal With T.J. Dillashaw
Published 06/10/2020, 6:29 AM EDT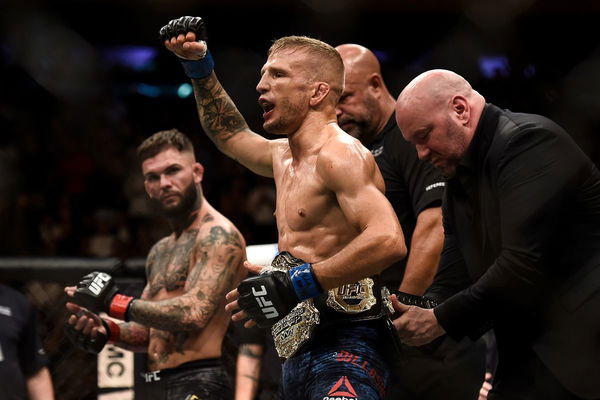 ---
---
Cody Garbrandt and T.J. Dillashaw have a lot of history between them – both personal and professional. After a successful return at UFC 250, Garbrandt laid out his plans for the future. The former champ Cody is not chiding away from a trilogy against his former teammate.
ADVERTISEMENT
Article continues below this ad
Grabrandt knocked out Raphael Assuncao in the second round of their fight last weekend. The win marked his successful return to the Octagon after fifteen months. Moreover, he snapped a three-fight losing skid. Garbrandt had earlier planned to move to Flyweight after his fight with Assuncao. However, it seems that he has changed his mind. He is now willing to stay at Bantamweight and fight for the belt.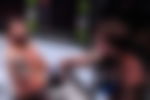 Both Cody and T.J. were former training partners at Team Alpha Male. Following a rather ugly split, Dillashaw left the team. He and Cody have had two fights so far. Dillashaw turned out on top both the times. However, his legacy was later tarnished when he tested positive for erythropoietin (EPO). Subsequently, he is serving a two-year suspension handed out by USADA.
ADVERTISEMENT
Article continues below this ad
Dillashaw will be eligible for a return to the Octagon in January 2020. Meanwhile, Petr Yan and Jose Aldo will fight for the title next month. The winner will face Aljamain Sterling. Hence, Garbrandt will have to wait for a while to get the title shot. Therefore, a fight with Dillashaw makes a lot of sense for him.
Cody Garbrandt says he felt bad for T.J. Dillashaw
"That's a fight I'd like to get back," Garbrandt said at the UFC 250 post-fight press conference. "We all knew what he was on. We all knew what he was doing. It took so many times for him to skate by USADA unfortunately. But, you know, he's serving his sentence. He's gonna always have to live with that for the rest of his life. He has a child that has eyes on him, that knows his dad was a cheater."
ADVERTISEMENT
Article continues below this ad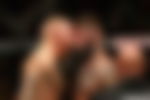 Garbrandt and Dillashaw met for the first time in November 2017 at UFC 217. Dillashaw knocked out Cody in the second round. The two met again in 2018. However, the outcome was the same this time around as well. Things were about to get much worse for Dillashaw who would fail both his pre-fight and post-fight drug tests in the fight against Henry Cejudo.
Garbrandt slammed Dillashaw for not having confidence in his abilities.
ADVERTISEMENT
Article continues below this ad
"The whole world looked up to him, a lot of young kids. It's sad," Garbrandt said. "I kind of feel bad for the guy. He has no confidence, that he has to use those kinds of aids to be a fighter. We'll see. I'm gonna be at the world championship, I'm gonna be at the top, so if he works his way back up there, open door. Let's get it."
Who do you think will emerge as the winner in the trilogy between Dillashaw and Garbrandt?