Jon Jones was recently arrested for DWI and negligent use of firearms. Although he was released, the light heavyweight champion did not get away without criticism. Recently, fighters like Israel Adesanya and Dominick Reyes blasted Jones on social media for his behavior.
Jones is one of the most talented athletes in mixed martial arts history. Although there were some close calls, to date, nobody has successfully dethroned the champion. His only loss came by a disqualification. Throughout his career, Jones has defeated legends as well as new prospects in the sport.
With so many things to boast about, it is easy to think that Jones is living the perfect life. Well, that is not the case with him. Like all human beings, Jones is flawed. He found himself in trouble not once, not twice but multiple times.
From doping violations to crashing into a pregnant woman, Jones' infractions with the law are many. His most recent encounter with the police came around 1 a.m. on Thursday. 'Bones' was found driving under the influence of alcohol and recklessly firing shots from his handgun.
Undoubtedly, Jones received a ton of backlash from fellow fighters and fans. However, the two fighters who stood out among the rest were Israel Adesanya and Dominick Reyes.
Shots Fired: Israel Adesanya blasts Jon Jones
Adesanya—the undisputed middleweight champion—is quite active on social media. The Kiwi is known for his love for memes. Both Adesanya and Jones have teased a fight on multiple occasions. Although the fight itself is a distant reality, they do not waste any opportunities to roast each other.
While most of their social media battles were back and forth, Jones' latest confrontation gave 'Izzy' the upper hand. The middleweight champion posted a series of memes on his Twitter.
Leave Morgan outta this one ol' buddy ol' pal. pic.twitter.com/bvhyvYAN9J

— Israel Adesanya (@stylebender) March 27, 2020
Testify!! *catches holy ghost* pic.twitter.com/9qJvUpybTw

— Israel Adesanya (@stylebender) March 27, 2020
Loves a party ☃️ https://t.co/cW45TlMd9n

— Israel Adesanya (@stylebender) March 27, 2020
Woke up like… https://t.co/PVQrFMGQqk

— Israel Adesanya (@stylebender) March 26, 2020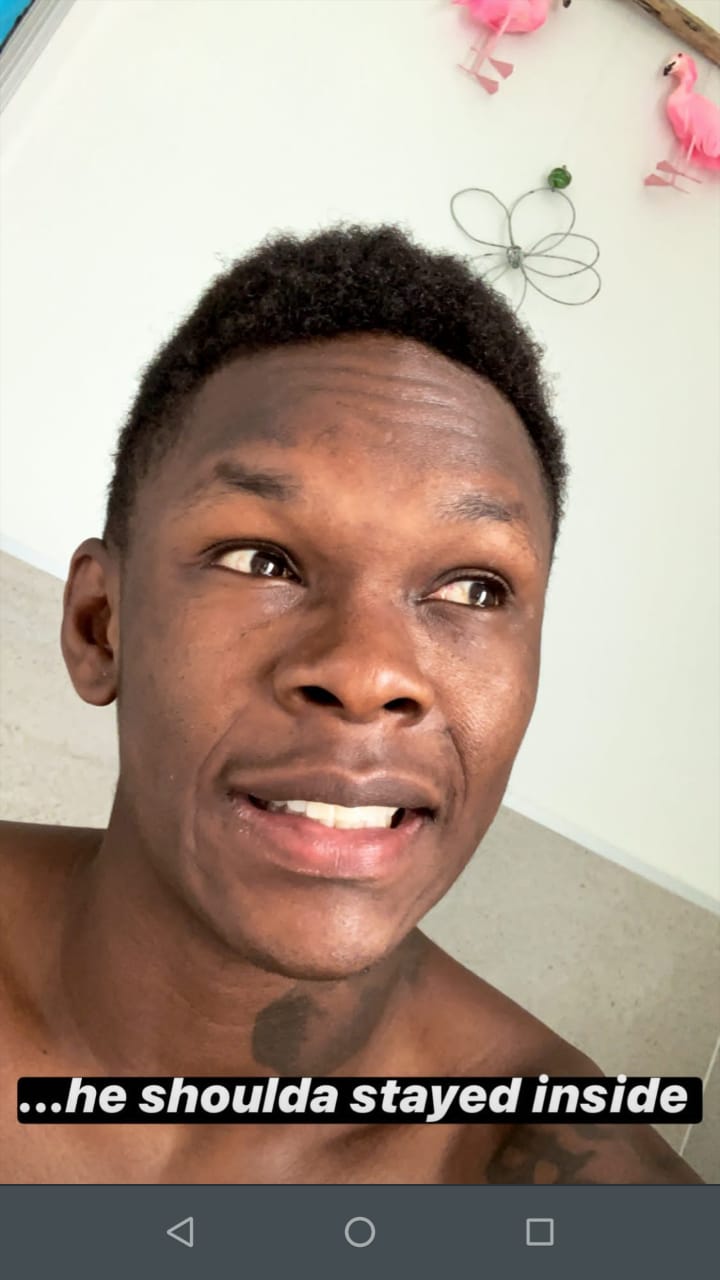 Adesanya was not the only one who fired shots at Jones.
Dominick Reyes—former challenger for the light heavyweight title—is referred to as the 'People's Champ' by many. Fans and pundits believe that Reyes did enough to win his match against Jones. Ever since their fight, Reyes did not stop rallying for a rematch.
Check out what the light heavyweight had to say.
This is so unbelieveable it's almost laughable! #sameoljon #somechamp #sad https://t.co/Ws0gHFOGIz

— Dominick Reyes (@DomReyes) March 26, 2020
While the UFC fighters are busy making fun of Jon Jones, what are your views on the scenario?
Continue the conversation on Telegram, join other MMA fans on MMA Fans Group