"He's the Greatest of All Time" – Jon Anik Disappointed Over Joe Rogan Not Being Nominated for a Sports Emmy
Published 06/24/2020, 11:00 AM EDT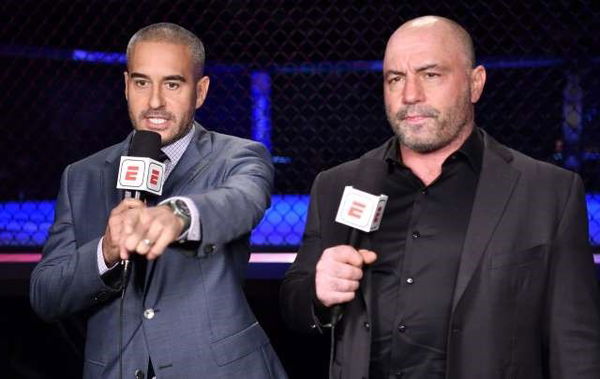 ---
---
If there is one personality that has been associated with the UFC since its early days other than Dana White, it's Joe Rogan. The UFC color commentator has lent his voice for the majority of UFC events. However, his colleague Jon Anik feels the mainstream media doesn't give Joe Rogan enough credit.
ADVERTISEMENT
Article continues below this ad
Speaking on The Schmozone podcast, Anik was all-respect for the former Fear Factor host. He lauded Rogan for swiftly adapting from one partner to the other in the commentator's booth. From Mike Goldberg to Dominick Cruz, Joe has shared his voice with almost everyone in the business.
Irrespective of how much in-depth analysis he provides and his never-ending passion for the sport, Joe has never caught the attention of mainstream media. His recent $100 million deal with Spotify made more news than his love for the sport could ever garner for him.
ADVERTISEMENT
Article continues below this ad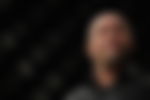 "I don't have enough superlatives for that guy. He's the greatest of all time. I'm very disappointed that he hasn't been given enough national recognition. Even though he doesn't give a s**t. I assure you," Jon Anik said.
"How has this man not been nominated for a Sports Emmy in the United States of America? I know it's an old boys club a little bit but I wish he gets more mainstream recognition for how good an analyst he is," he added.
Jon Anik describes his off-camera relationship with Joe Rogan
ADVERTISEMENT
Article continues below this ad
More than the voice of the UFC, Joe Rogan is also this interesting and magnetic guy that people love talking and listening to. His podcast, The Joe Rogan Experience, has garnered millions of views on YouTube. Former double champ and Rogan's co-worker, Daniel Cormier, said that Joe Rogan has a gravitational pull that makes it hard not to shake his hands.
Jon Anik also gave us an insight into the kind of conversation that he and Joe have when they are not on camera. Right from the time, Anik stepped foot into the UFC till now, Rogan has treated him with the same level of respect.
Watch This Story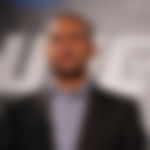 ADVERTISEMENT
Article continues below this ad
"It's incredible," Jon said regarding sharing his workspace with Joe. "Certainly, I don't take that seat for granted. The first time I ever worked with him was in 2012 at UFC 155. I got the call on three days' notice to do like my first pay-per-view. He embraced the same way as in early 2017 when I became the No. 1 guy.
We've become great friends. People always ask what you guys talk about backstage. We talk about fighting. We talk about other stuff but the conversation always circles back to fighting. We're so passionate about our love for mixed martial arts."