"I Couldn't Go Live Anymore"- Conor McGregor Left Devastated and Angry as Coronavirus Claims Aunt
Published 03/14/2020, 6:07 AM EDT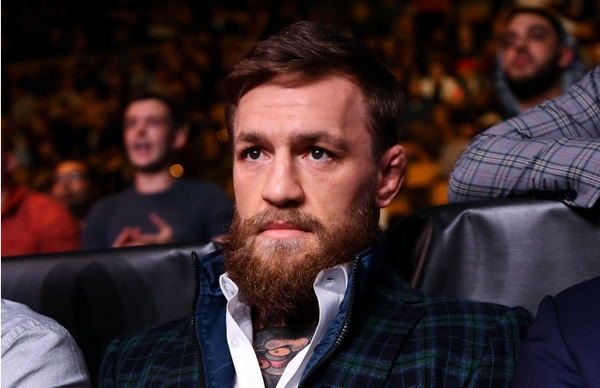 ---
---
Conor McGregor has revealed the death of his aunt Anne Moore in Ireland in an emotional Instagram post.
ADVERTISEMENT
Article continues below this ad
This news only confirms that the virus has spread in a significant way.
As many as 119 people on the island of Ireland are probably infected with the coronavirus.
ADVERTISEMENT
Article continues below this ad
Six people confirmed to have coronavirus in Ireland are seriously ill and are being treated in intensive care units in the hospital.
In an emotional and heart-wrenching statement issued in an Instagram post on Friday, a former featherweight and lightweight champion, Conor McGregor, gave way to his frustration at the coronavirus outbreak.
"I get a phone call telling me that my lovely little auntie Anne had passed away," McGregor writes.
"I couldn't go live anymore. My poor little friendly loving auntie. My mother's sister. This stupid (expletive)virus. What the (expletive) is happening."
The Irish MMA icon has not revealed any further details about his aunt's death but shares his views on personal hygiene in the wake of sudden disruption caused by the coronavirus.
"Ireland you amazing, amazing country. I believe we have this virus contained. And through this containment, we actually may have gone and contained them all," McGregor further writes on his post.
In a lengthy emotional post, Conor McGregor posted photos of his family with including his fiancée Dee Devlin, their two children among others.
The photos McGregor says were snapped on the same day when he was announcing a donation to first responder charity Stephen Siller Tunnel to Towers Foundation.
The post reads: "I took my family to bull island. Looked out at the sea. Took a deep breath. Thank (expletive)!Lord Thank you."
"Stay tight people! We are all we got. Rest in peace Anne Moore I love you!"
Conor McGregor's boxing return?
Recently Conor McGregor' coach has made a prediction about his return in the squared ring.
"I'd be honestly surprised if Conor doesn't have a boxing match in the next 12- 18 months," Kavanagh, McGregor coach says.
ADVERTISEMENT
Article continues below this ad
"He loves boxing. He loved the training for Mayweather fight," Kavanagh adds.
When asked by ESPN about his boxing return, Conor positively says that he is looking for a rematch with Mayweather.
"Very much so. And then the Paulie(Malignaggi) fight.
ADVERTISEMENT
Article continues below this ad
"I will get a boxing world title," he adds.