"I Flew A Little Too Close To The Sun"- Ariel Helwani On His Troubled Past With Dana White
Published 03/20/2020, 11:57 AM EDT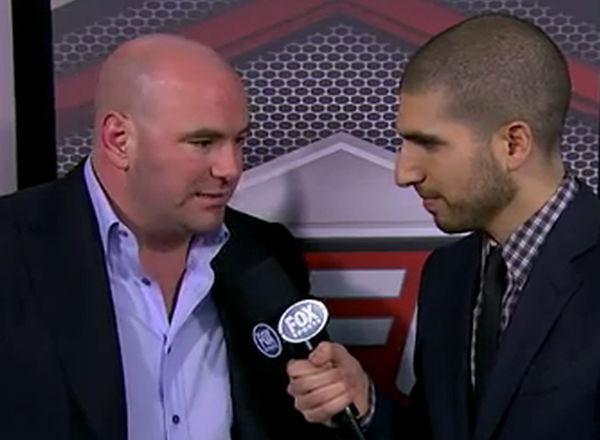 ---
---
The name Ariel Helwani is one that strikes everyone when anyone thinks of MMA news. He has worked extremely hard to make his name synonymous with journalistic excellence in the world of combat sports. He has been a part of this world almost since its conception.
ADVERTISEMENT
Article continues below this ad
The Canadian born journalist has seen a lot of ups and downs throughout his career and he opens up about the same in a recent interview with Stephen Brunt. Working in a field of sports that had not yet made its presence known to the audience of the world, Helwani is a true stalwart in the MMA journalism circle.
Ariel Helwani's relationship with UFC President Dana White has been just like his career full of highs and lows as well. Helwani credits White for giving him the opportunity to reach into the inner strata of the sport. The UFC as an organization, in the beginning, was a very tight community. Helwani claims all they wanted was the best of the best to cover their events.
ADVERTISEMENT
Article continues below this ad
Helwani credits popular columnist Kevin Iole to linking him to White.
"This is long before any issues that I had. Luckily there was someone named Kevin Iole who worked for Yahoo sports who actually went to Dana White personally. And said '…You guys should really let him in'. Once [Dana] found out about it, I was in. [Dana] couldn't be nicer to me, like was so accessible so gracious, so nice. That was a huge turning point for my career."- Ariel Helwani
History Between Ariel Helwani And Dana White
ADVERTISEMENT
Article continues below this ad
Helwani traces the downfall of his relationship with White around the time when FOX Broadcasting Company became the broadcast partner of the UFC.
"At some point maybe I flew a little too close to the sun… March of 2016 they asked FOX to let me go and FOX obliged. I have tried to repair the relationship. I've reached out. I've done everything I could have done. And at times I've had to swallow my pride… I don't want to be defined by this. I don't want this to be the label on my career. But there has not been a reciprocation. "- Ariel Helwani
"Dana mentioned that from what I recalled that Brock Lesnar was upset the news was released early and that this could have ruined their deal."- Ariel Helwani
ADVERTISEMENT
Article continues below this ad
Breaking the news about Brock Lesnar's return to the UFC and Conor McGregor's bout with Nate Diaz is one of the main reasons behind their strained relationship. As a result of which Helwani and his colleagues Esther Lin and E. Casey Leydon were escorted out of the arena at UFC 199.