"I Just Feel So Embarrassed" – Chan Sung Jung Says He Can't Remember Most of the Fight Against Brian Ortega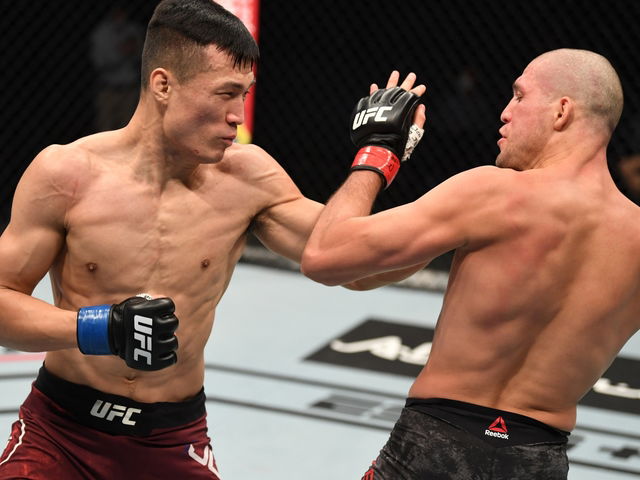 Brian Ortega defeated Chan Sung Jung in the headliner of UFC on Fight Island 6. Ortega simply outclassed 'The Korean Zombie' for the full five rounds. While the fight lasted for full twenty-five minutes, Chan Sung Jung isn't able to recall most of it right now.
Ortega caught his rival with an elbow in the final minute of the second round. Jung was looking good in that round until Ortega clipped him. It was after this that the fighter from California didn't allow his opponent to make a comeback.
SPINNING BACK ELBOW CONNECTED! 😲#UFCFightIsland6 pic.twitter.com/kEeYe98XIt

— UFC on BT Sport (@btsportufc) October 18, 2020
Jung, on the other hand, says that he can't recall most of the action that took place after that elbow. It was more like he was operating on auto-pilot mode during the latter half of the contest. The featherweight added that he felt humiliated following such a lopsided decision.
"I don't remember the third, fourth, and fifth rounds. I can't remember, but it's amazing to see how I'm fighting.. haha, I have to find out why I lost when I lose the game. Right, I'm just a fool. Ortega was so good… I just feel so embarrassed about me now. Still, thank you for supporting me a lot. I'm sorry," Jung wrote on Instagram (via MMA Junkie).
Chan Sung Jung will have to go back to the drawing board
Jung was the favorite coming into the fight. However, Ortega showed a completely different version of himself following a long layoff. 'The Korean Zombie' was the one who people expected to be the better fighter on the feet. However, how 'T-City'  mixed up his strikes along with timely level changes gave his opponent no chance to let his hands go.
It wasn't the case that Jung came into the fight with a lack of preparation. He accepted that he had prepared for a southpaw opponent. What culminated in the octagon was nothing that he had expected to be.
"When the fifth round was about one minute left, my mind returned. So, at the end of the fifth round, I knew if the fourth round would start. ㅋㅋ
Rounds 3, 4, and 5 were just… fights. Obviously, I was expecting to be South Po, and I prepared a lot, and Eddie coach also ordered properly.
"Gym left-handed players are using the technique of harassing left-handed athletes. But… haha ​​If I play again, I want to prepare for the third round. #Now it's really okay #I'm okay with blaming mockery #Hahaha #I'm so sorry for only one person," Chan Sung Jung added.
The win will most likely act as a ticket to another title shot for Brian Ortega. While he has shown massive improvements, he will have to take his preparations up a notch if he wants to find success against Alexander Volkanovski.
On the other hand, The Korean Zombie will have to build his way up to a title shot yet again.
Read More: Alexander Volkanovski Yair Rodriguez and Other Fighters React to Brian Ortega vs The Korean Zombie
Continue the conversation on the app, join other MMA fans on MMA Fans App