"I Only Gotta Kick Him 8 Times" – Justin Gaethje Reveals His Gameplan to Beat Khabib Nurmagomedov
Published 05/16/2020, 10:47 AM EDT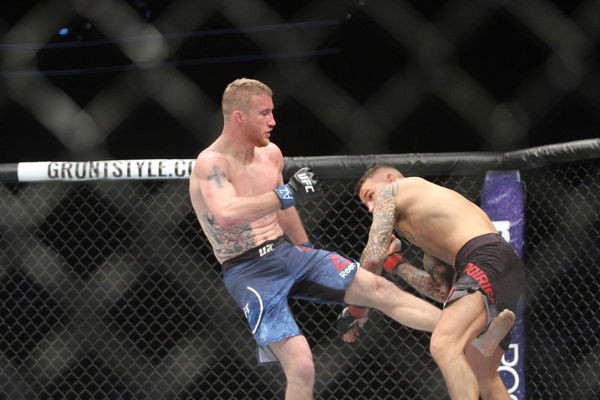 ---
---
UFC interim lightweight champion Justin Gaethje reveals his strategy ahead of his fight with Khabib Nurmagomedov. Gaethje ended Tony Ferguson's 12-fight win streak and won the interim lightweight championship last Saturday.
ADVERTISEMENT
Article continues below this ad
This victory set him up for a title unification bout against the lightweight champion, Khabib Nurmagomedov. Among all of his fights, his matchup with Khabib is his toughest one. Nobody has been able to stop the Dagestani fighter from dominating his will on them.
With a record of 28-0, Khabib has mauled almost every single opponent on the ground. He implements his elite-level wrestling to take his opponents to the ground and unleashes heavy ground and pound. Not many of his opponents got back up after being on the receiving end of a beat down.
ADVERTISEMENT
Article continues below this ad
Dealing with a wrestler like him comes with its challenges and Justin believes that being the best version of himself will help him get through "The Eagle."
Justin Gaethje reveals his plans
In an interview with Brett Okamoto of ESPN Gaethje said: "I'll do it the same exact way that I have done it for every single fight. I will work to be my best self. I'm so athletic. The first thing to go when you get tired is your legs.
"So from now on till then, I'm gonna be running a lot, jump roping a lot, lot of airdyne, lot of step-ups, a lot of squats. If my legs are in shape, I don't get tired. And if I don't get tired then I can get back up. And if I can get back up, I can hit him. If I can hit him, I hit like a truck.
ADVERTISEMENT
Article continues below this ad
"I only gotta kick him 8 times in the calves before he is compromised."
Leg kicks are one of the most effective tools in MMA; Gaethje has brutalizing leg kicks. It can cut off the movement of an opponent to a large extent. This means that Gaethje will be able to connect his power punches better. Even though he lost to Dustin Poirier, check out what he did to his leg.
ADVERTISEMENT
Article continues below this ad
However, utilizing leg kicks against a wrestler comes with its own risk. If Khabib can catch one of those kicks, Gaethje will get taken down. Being an elite level wrestler himself, he might keep Khabib off him for some time. But can he do it consistently for 25 minutes?
What are your thoughts on Justin Gaethje's plan?