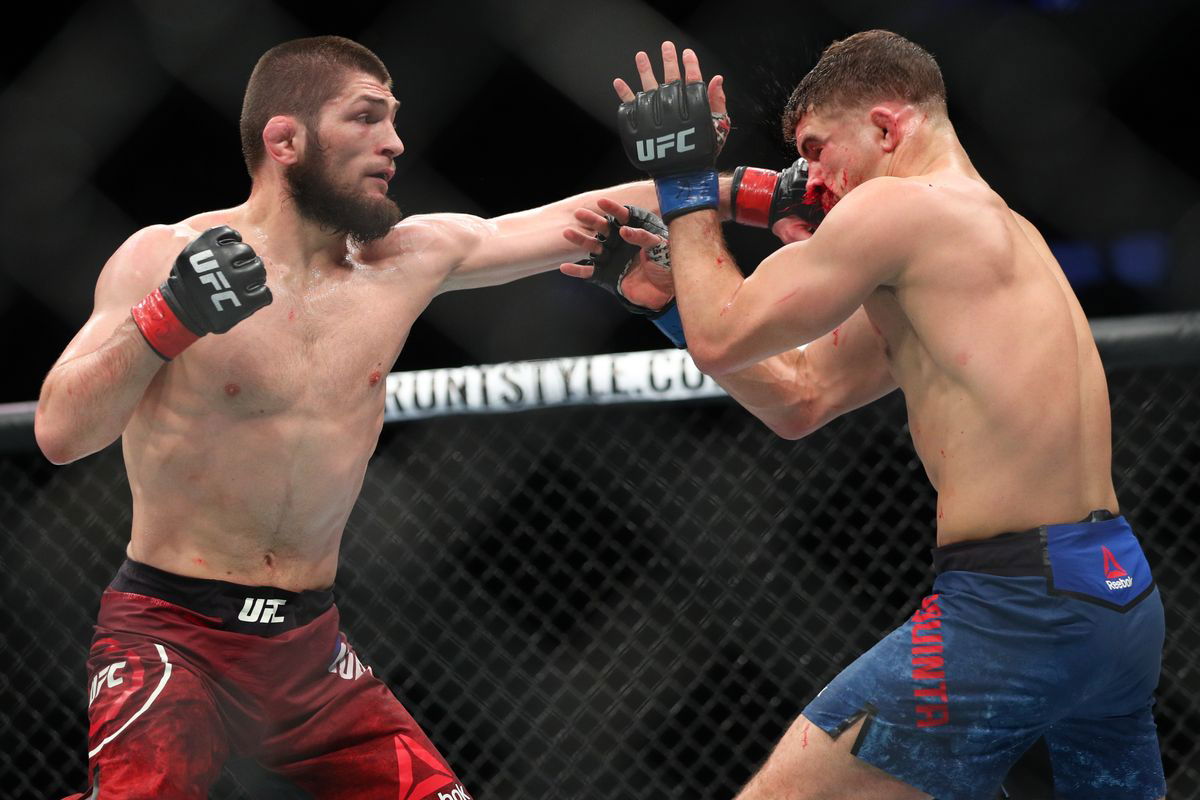 The former UFC Light-Heavyweight and former Heavyweight champion Daniel "DC" Cormier found himself in a light argument with Khabib Nurmagomedov. Every gym has its king. The verbal standoff took place to establish who amongst the two fighters was the king.
Daniel Cormier mocked Khabib over his jabs. DC added that before he taught Khabib how to throw a punch they were like "baby jabs" and now he has a "man's jab". Daniel Cormier, in the video, is claiming that the gym was his turf.
The former champ is known for having fun with his teammates from the American Kickboxing Academy. He often brings up rivalries and compares his teammates to other fighters. This is not the first time the two fighters have been in the limelight for having a friendly argument. In a video posted by ESPN MMA, Khabib and Daniel Cormier talk about Conor Mcgregor.
Khabib argues that the Irishman does not deserve to have his name taken by DC. To which Cormier responds by reminding Khabib of Conor's achievements and that smashing Conor in a fight does not negate everything The Notorious one has done. After which the Dagestani fighter seems annoyed and starts walking away as DC continues to tease him.
Never get tired of these two together 😂@TeamKhabib had issues with @dc_mma analyzing "this guy" on his ESPN+ show Detail (via @i_AmTheBay, h/t Crazyplan9/Reddit) pic.twitter.com/8OpA0PINJg

— ESPN MMA (@espnmma) December 3, 2019
Another similar altercation took place between the two fighters back in August 2019 and it was over who paid for a meal 8 years ago. It started with DC asking Khabib to help make arrangements for the training of his team in Dagestan.
"I Love Khabib Nurmagomedov," Said Daniel Cormier
Daniel Cormier and his AKA teammate, Khabib share a very unique relationship. DC feels that Khabib is one of the best people in the world. DC also adds that The Eagle is a very loyal and extremely caring individual and that once you are part of his circle he will even die for you. Their relationship goes back to the time when Khabib was just a young kid that walked into his gym and barely spoke English. Daniel Cormier is seemingly upbeat about all their videos that are shared with MMA fans.
Continue the conversation on Telegram, join other MMA fans on MMA Fans Group