There are only three fighters that have fought both Justin Gaethje and Conor McGregor inside the Octagon. Eddie Alvarez is one of them.
The former UFC Lightweight kingpin lost to McGregor while he defeated Gaethje. The MMA veteran gave his verdict on a potential Gaethje vs McGregor pairing in the future.
Justin Gaethje became the interim UFC Lightweight champ last week after defeating Tony Ferguson. He has earned the right to challenge Khabib Nurmagomedov for the undisputed belt.
However, McGregor has the power to insert himself into any fight that he wants to. Moreover, Khabib is currently more concerned with the health issues of his father.
Considering all this, it wouldn't be a far-fetched dream to imagine McGregor meeting Gaethje in the not-so-distant future. Eddie Alvarez is a reasonable authority to give his verdict on the potential match-up.
"The Underground King" lost his belt to McGregor at UFC 205 in November 2016. However, he knocked out Justin Gaethje in December 2017.
"I think a knockout," Alvarez told TheScore when he was asked about how Conor could defeat Justin. "I was able to catch (Gaethje) quite a bit with punches, and you watch, Dustin (Poirier) was able to box him a little bit."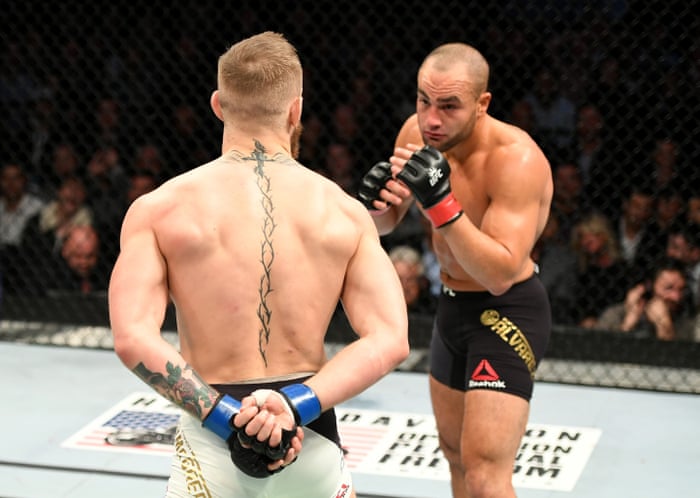 Eddie Alvarez explains a scenario in which Justin Gaethje defeats Conor McGregor
Alvarez's prediction that Conor would defeat Justin was based on a hypothesis. He had predicted that Gaethje would prefer to stand and trade with the Irish megastar.
However, if Gaethje decides to follow the 'Khabib Nurmagomedov model' of fighting McGregor, then it would be a completely different story.
"The thing with Justin, if I thought he was going to implement a ground game and go in there and take Conor McGregor down and put him against the cage and do what Khabib did or do what I intended to do if he was going to implement that game, I would say, 'Justin is going to do really well against him," Alvarez said.
McGregor has a proven track record of picking fighters apart while they are on their feet. His precision striking and lethal left hand have helped him wrap two belts around himself.
Even though Gaethje is a potent striker, Eddie thinks he wouldn't be able to match up to the level of "The Notorious One".
"Just standing for standing, is what I feel like it'll end up being, there's just too many mistakes Justin would end up making and Conor would be able to kind of capitalize," Alvarez added.
Currently, Eddie Alvarez fights under the banner of ONE FC. He has held belts in the lightweight division of both UFC and Bellator.
Continue the conversation on Telegram, join other MMA fans on MMA Fans Group