"I Would Fight McGregor In Any Weight"- Charles Oliveira Calls Out Conor McGregor
Published 03/18/2020, 5:38 AM EDT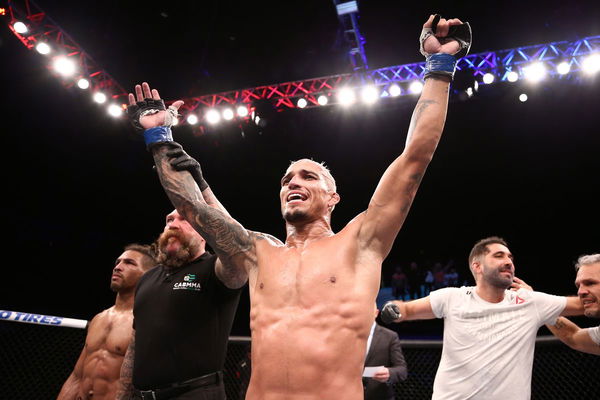 ---
---
Charles Oliveira continues to engrave his name deeper into the history of UFC. In his latest stint, Charles went up against Kevin Lee and extended his win-streak.
ADVERTISEMENT
Article continues below this ad
In a post-fight interview, "Do Bronx" Oliveira discussed the prospects for his future fights. While discussing the possibilities, the name of "The Notorious" Conor McGregor eventually popped up. And why not?
Ever since McGregor made his return to the octagon, the UFC universe is immersed with speculations regarding his upcoming fights. After all, there are not a lot of athletes that pack the credibility and popularity along with their names that McGregor does.
ADVERTISEMENT
Article continues below this ad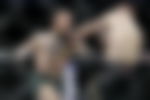 Adding himself to the list of fighters who would love to get their hands on McGregor, Oliveira said,
"I would fight McGregor in any weight, no problem. It would be a good fight, I'd really like to fight him. It could be at 155 or 170, it doesn't matter."
As mentioned earlier, Oliveira is coming fresh off a win over Kevin Lee at UFC Brasilia. The decorated fighter added several laurels to his name with this win.
He beat Kevin Lee via submission in the third round, furthering the record for most submission wins with 14 wins. He also furthered his finishing streak, matching Donald Cerrone's record for most finishes, i.e. 16.
"I'm ready to fight for it now"- Charles Oliveira on Lightweight title fight
After defeating Kevin Lee, Oliveira stated that he is ready to fight for the UFC Lightweight Championship. He said,
"I'm ready to fight for it now. There's not much I can say, I don't leave it in the hands of the judges. I knock out or I submit. It's my time. It's a new history, it's a new Charles."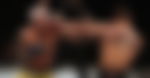 ADVERTISEMENT
Article continues below this ad
Yet, it is highly doubtful that Oliveira will get a title fight right now. He currently ranks #8 in the division, and it unheard of for someone out of the 'Big 5' or the 'Top 5' to get a title shot.
Elaborating on the same, Charles said, "I think I'll have another fight before the belt. Ferguson's fighting Khabib, so that's gonna happen soon and I'm gonna end up having another fight before. They're not gonna give me that fight right away, I hope to fight a top-5, but my coaches will decide that."
Although, the way Oliveira is going, he will soon be among the top players of his division. His next fight will be a deciding point in his career, and Oliveira will have to remain sharp to continue the upward graph he is on.
ADVERTISEMENT
Article continues below this ad
What do you think the future holds for the Brazilian?