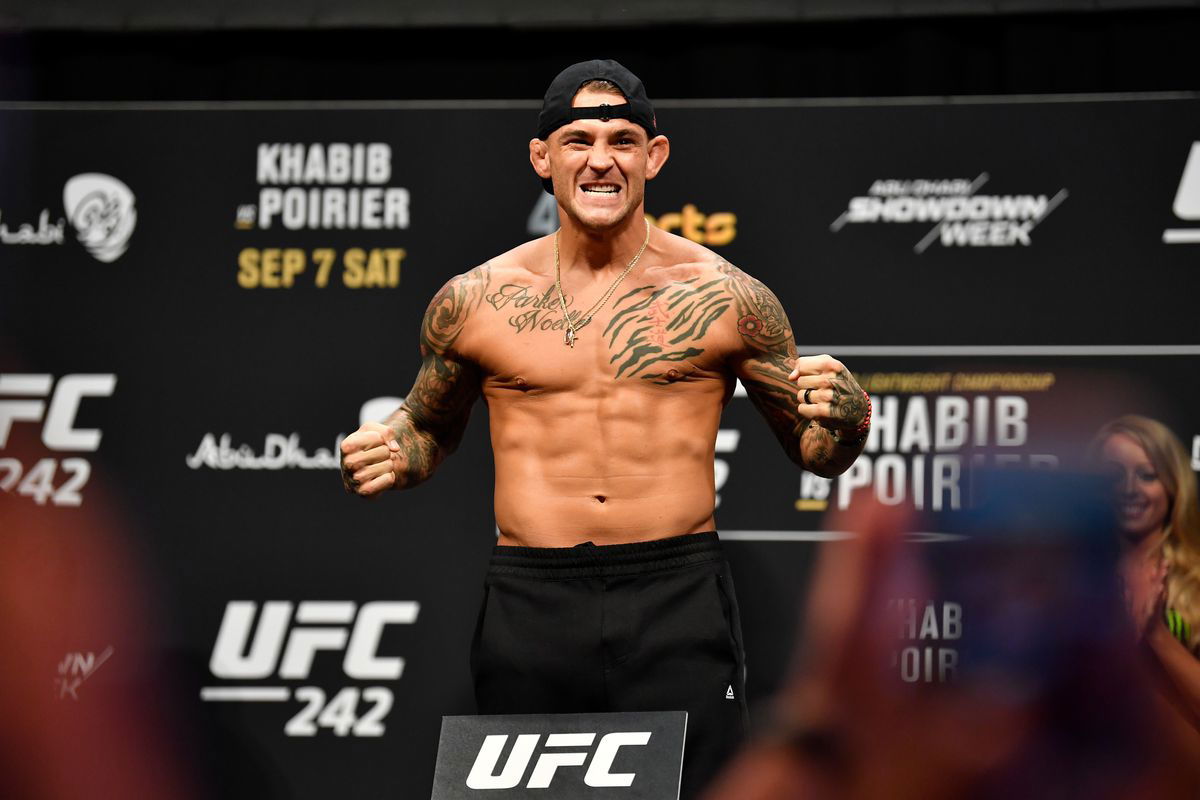 When news broke out that Khabib Nurmagomedov could not move out of Russia, several fighters put their names in the hat to save the card. Former interim-lightweight champion, Dustin Poirier stood out from the rest.
Dustin Poirier has had a hell of a run in the lightweight division. 'The Diamond' accumulated 9 victories before challenging Khabib Nurmagomedov for the undisputed belt. Although he was unsuccessful in dethroning the 'Eagle,' Poirier put up a valiant effort.
Since his loss, he has not fought again. Poirier was scheduled to fight Dan 'The Hangman' Hooker, but the fate of that fight is uncertain.
Despite Dana White's repeated attempts to save the fight between Khabib and Tony, there was little he could do. According to Ariel Helwani, the company then looked towards Justin Gaethje's fight with Tony.
Dustin Poirier is ready to replace Khabib Nurmagomedov
So far, there has been no confirmation on the status of that bout. However, should Gaethje decline or some other fighter need an opponent, Dustin Poirier is ever ready to step in.
In an interview with Ariel Helwani, Poirier said:
"In amidst what was happening yesterday, an opportunity like that, of course, I'm 100% jumping on."
He believes that challengers like Dan Hooker will be around for a while. Hence, those fights can wait for a later time.
"No disrespect to Dan Hooker, but guys like that are going to be around. Opportunities like that are gonna be there always, for the rest of my career. Up and coming good guys who are on a streak, fun matchups, that's always gonna be around."
"I think I'd beat up Tony, man. I really do."@DustinPoirier likes how he matches up with Tony Ferguson, but says he's willing to fight anybody at #UFC249 (via @arielhelwani) pic.twitter.com/V7OUXYX28v

— ESPN MMA (@espnmma) March 31, 2020
Poirier said that he would take on anybody. But he does believe that he has a solid chance of detailing Ferguson's momentum.
"I think I'd beat up Tony man, I really do. The Gaethje fight as well, I'd do a rematch with him."
Poirier is one of the best boxers in the division. He packs serious heat behind his punches and has a legitimate chance of stopping Tony. But considering that Tony has been training for a long time, it might be difficult for Poirier to keep up with the pace.
Tony could be too much to handle for Poirier. On the other hand, fighting Gaethje may not yield the required results as well. Gaethje has improved considerably since their first match. However, Poirier's chances of winning against Gaethje is relatively more than Tony.
Continue the conversation on Telegram, join other MMA fans on MMA Fans Group