"If We Want Anything From the Government We Gotta Go Through Fire Hoops" – Mike Perry
Published 07/01/2020, 1:17 PM EDT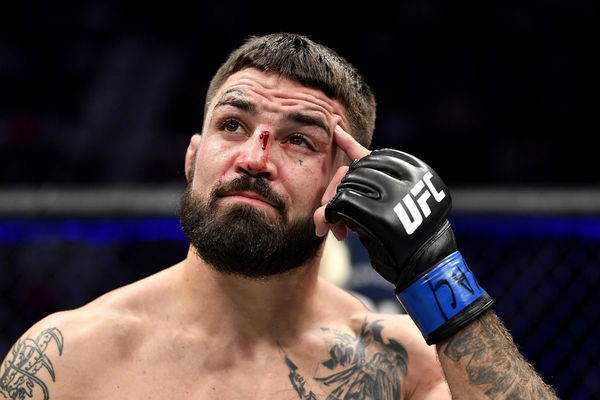 ---
---
Welterweight contender Mike Perry opened about his problem with taxes. The 28-year-old also expressed his displeasure with the government.
ADVERTISEMENT
Article continues below this ad
After suffering two back-to-back losses, "Platinum" finally secured a win over Mickey Gall via a unanimous decision. Unlike his previous fights, Perry walked out with no corner. The unranked contender stunned everybody when he outclassed Gall in every aspect.
ADVERTISEMENT
Article continues below this ad
Perry was the second-highest earner on the card. He made $180,000 [Sponsorships excluded] for his victory over Gall. However, he will not be receiving the entire amount as he needs to pay his taxes. In a recent interview with Ariel Helwani, Perry stated that the UFC had employees to handle international taxes before.
"When the Fertitta Brothers owned the UFC, the UFC had tax people for the fighters. And then, when the new people bought the UFC when IMG bought the UFC, they fired those guys. Those guys branched off doing their own thing. And they got so many of these UFC fighters. They are the only guys to know how to do the international taxes.
"Apparently, that's such a difficult thing. Nobody knows how to do it. If you go talk to professionals, they don't know how to do overseas taxes. And how we get our money back from those."
Mike Perry believes that taxes are "hardcore" for fighters
ADVERTISEMENT
Article continues below this ad
Additionally, Perry said that the paperwork can be difficult for fighters to handle.
"The paperwork is just too hardcore for us when it seems so easy for the government to take. If we want anything from the government, we gotta go through fire hoops and we got to jump all these strings. You gonna have to come find me. I'm about to spend all this (expletive)." 
ADVERTISEMENT
Article continues below this ad
Perry said that he paid $17,000 out of his $118,000 purse as a tax to Uruguay last year. He also claimed that he paid around $100,000 in taxes in 2019 alone. Ever since Perry spoke out on the issue, many fighters like Eddie Alvarez, Josh Thomson, etc. have suggested him different ways to tackle the problem.
Speaking about his future, Perry expressed his wish to fight middleweight Darren Till. He is even willing to train with Yoel Romero to get a taste of the 185 lbs division.