"I'll Pull Your Tampons out" – Tyron Woodley Fires Back at Israel Adesanya
Published 04/22/2020, 4:06 PM EDT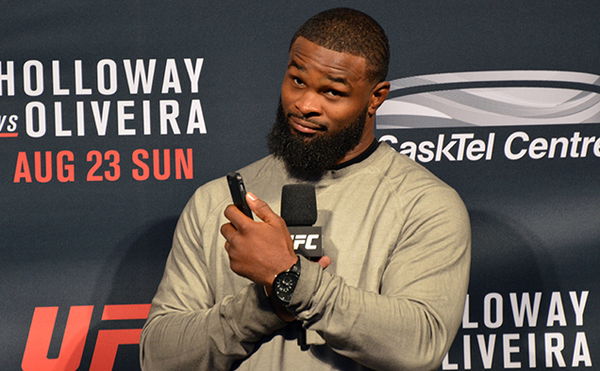 ---
---
In a recent Instagram live, Tyron Woodley expressed his desire to move up to Middleweight. The 185-pounds kingpin, Israel Adesanya, responded immediately. However, it didn't sit very well with Woodley. He decided to retaliate in several tweets.
ADVERTISEMENT
Article continues below this ad
Adesanya mocked Woodley by ordering him to first take care of the other Nigerian, Kamaru Usman. He then poked fun at Woodley's rapping career. Israel said that the only way Woodley can defeat him is if they go head-to-head in a rap battle.
At this point, "The Chosen One" thought that he has seen enough. He took to Twitter to accept Adesanya's challenge.
ADVERTISEMENT
Article continues below this ad
Im a 5 time world champ stick figure. I gave you props & said after I wipe the Woodley Weight division clean I'll move up. Someone asked me about moving up. You're the one that got sensitive. Now I'll pull your tampon out. And your homie name is #Hooker 🤣 lay ups I tell you! https://t.co/2jSSFbHexo

— Tyron T-Wood Woodley (@TWooodley) April 22, 2020
I'm here. You know where to find me! You also know who to call to get it crackin (Hint he owns the whip you respond to). I don't need to 2021 or whatever you stuttered and said. https://t.co/1T9q8FAChC

— Tyron T-Wood Woodley (@TWooodley) April 22, 2020
Israel's training partner, Dan Hooker, also dropped in the Twitter war between the two. He attempted to make fun of Woodley's rapping career just like Adesanya did. Hooker even accused the former Welterweight champ of 'clout chasing'. Woodley responded, calling him Adesanya's pimp.
The entire matter began when "The Chosen One", during an Instagram Live, said that he was looking to move up a weight class after three or four fights. He even mentioned Israel's name.
"I've got to clean up the (welterweight) division. Three or four fights in the welterweight division, and when I feel like I can comfortably say that I've wiped everybody out, then I want to go up there and see what Izzy is about," Woodley said.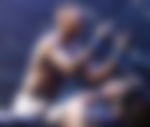 Is a fight between Israel Adesanya and Tyron Woodley possible in the future
ADVERTISEMENT
Article continues below this ad
The Twitter banter between the two could be the seed for a new rivalry. But the rivalry will only be fruitful for the fans if they ever get to witness the two juggernauts competing inside the Octagon. For that to happen, several factors have to fall in place.
Woodley has to, first of all, bounce back from his loss against Usman. The setback against Usman put an end to a streak of four title defences. He has expressed his desire to fight three or four times this year. And he wants to start as early as May 9th. If he can stitch together a winning record and move up to Middleweight, he can aim of getting a shot at "The Last Stylebender".
On the other hand, Adesanya will, most likely, defend his belt against Paulo Costa later this year. Israel also has a similar, but much bigger, beef with Jon Jones. If things permit, Adesanya may also like to take his chances at the Light Heavyweight kingpin and aim to become a double champ.
ADVERTISEMENT
Article continues below this ad
Do you think a fight between Adesanya and Woodley is possible in the future?