"I'm Proud of You" – Donald Trump Sends a Special Message to Colby Covington
Published 09/21/2020, 1:41 AM EDT
By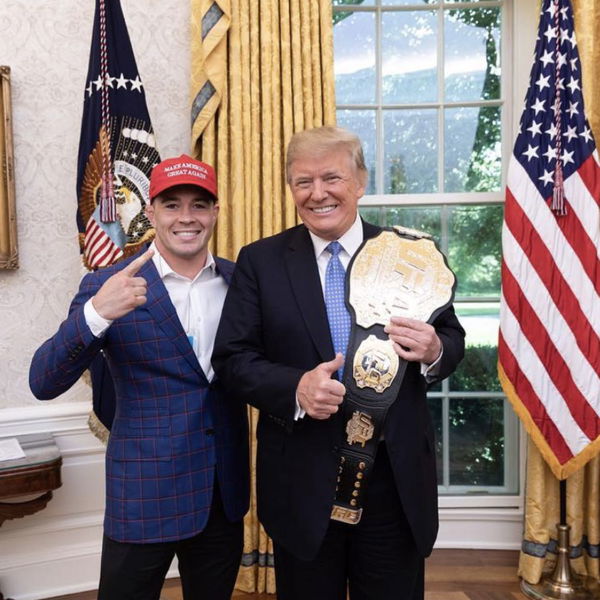 After a spectacular fifth-round TKO victory over former UFC welterweight champ Tyron Woodley last night, Colby Covington got a call from an unexpected fan. No, that fan wasn't some celebrity or an athlete, but the most powerful man in the country, the President of the United States, Donald Trump himself.
Usually being in his trash-talking persona in front of the camera, 'Chaos' broke character when he was informed of the call while giving a post-fight interview. The joy on his face said it all. It was like a kid receiving his favorite present by Santa Claus at Christmas. He wasted no time in removing the headset and responding to the call.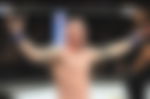 ADVERTISEMENT
Article continues below this ad
On the call, President Trump had a lot of nice things to say about Covington. He congratulated him on his victory "You are a great fighter man. I have to tell you, you make it so easy. I don't know how the hell you do that. Congratulations, I wanted to watch that fight tonight, I wanted to watch it, you were great."
Covington responded, "Thank you so much, Mr. President, you gave me the 'Dragon Energy' when you shook my hand on Sunday at your rally. And it doesn't matter if King Kong was in front of me, I was not gonna lose after getting to shake your hand."
Trump continued by giving props to Woodley and praising Covington's performance even further. He said, "He's a strong-looking guy, he's a tough-looking guy, he's a great fighter. He was the champ, and yet that was relatively easy work for you. Congrats! I'm proud of you. I just made a big speech at 35,000 people and said I gotta get home now to watch Colby. That was class work."
What's next for Colby Covington?
ADVERTISEMENT
Article continues below this ad
The conversation continued for a while and the President even invited Covington to the White House after the latter displayed his wish to put the championship title on the desk of the Oval Office.
Following this, the person with whom Covington has been eyeing a rematch ever since his defeat in the first fight, the welterweight champ Kamaru Usman, was present in the panel. The two had a heated exchange of words where 'Chaos' vowed revenge.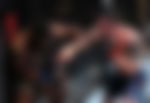 ADVERTISEMENT
Article continues below this ad
The other fighter that had been called out by Covington was his former best friend turned foe, the BMF Jorge Masvidal. 'Gamebred' hasn't responded to the call-out yet.
Although Covington is bitter-rivals with both the fighters, Usman already has a fight locked-in for now. But it will be interesting to see him face any of those two in the future.