Is Stipe Miocic the Only One Who Can Defeat Francis Ngannou?
Published 08/11/2020, 7:30 AM EDT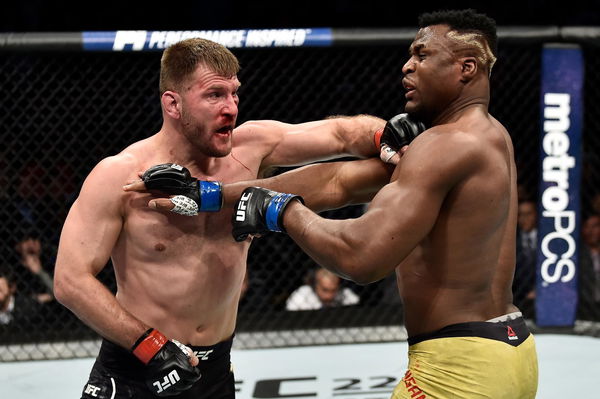 ---
---
Francis Ngannou, 'The Predator', is a deadly threat to the entire UFC heavyweight roster at this point. The towering French-Cameroonian powerhouse packs a lethal punch, and if landed clean, Ngannou can put people to sleep with relative ease.
ADVERTISEMENT
Article continues below this ad
Currently, he is on a four-fight win streak, claiming all of them via first-round knockouts. He is the number two ranked heavyweight in UFC now and has his aim set for a title shot.
However, if history is any indication, The Predator is not invincible. The reigning heavyweight champion, Stipe Miocic, was the first person to hand him a defeat following his admittance in the UFC's heavyweight roster.
ADVERTISEMENT
Article continues below this ad
This begs the question whether Miocic is one of the few fighters who can successfully weather the storm that Ngannou brings.
Does Stipe Miocic have a penchant for besting Francis Ngannou?
Well, following his first title loss against Miocic at UFC 220, Ngannou suffered yet another loss to Derrick Lewis at UFC 226. Thus it would be wrong to tout Miocic as the only one to possess the strength of defeating Ngannou.
However, it is partially correct. Lewis vs Ngannou at UFC 226 was expected to be filled with fireworks. Instead, it turned out to be a boring contest, with Lewis notching the win by way of unanimous decision. Since Ngannou and Lewis are both elite knockout artists, they did not take the risk to play their strongest card against the other back in 2018.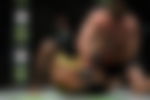 However, Miocic completely dominated Ngannou in their UFC 220  face-off to win the fight. Starting from the very first round, Miocic out-wrestled Ngannou and took him down several times. Surprisingly, Ngannou had very less to offer in response.
Leading with 70 strikes and six takedowns, Miocic is the only one to dominate Ngannou in the octagon.
Watch: Stipe Miocic vs Francis Ngannou- UFC 220
What can the re-match look like?
Miocic is currently on a collision course to Daniel Cormier, as he aims to put an end to their epic trilogy saga at UFC 252. Yet, Ngannou is next in line to contest for the UFC gold.
If Miocic successfully defends his title next, he would have to defend it again against Ngannou soon enough. That said, it would do 'The Predator' some good to bring an alternative style against the reigning champion.
ADVERTISEMENT
Article continues below this ad
Despite being a scary knockout artist, Miocic can counter and put his rival on the ground in the blink of an eye. Thus, an intense ride of swinging blows won't be very helpful against 'The Silencer'.
It would take nothing less than a miracle to stop Miocic from hitting the canvas if Ngannou gets in a clean jab. Thus, the highly anticipated rematch between Miocic and Ngannou is certainly one for the history books.
On the other side, Derrick Lewis is currently the heavyweight with the highest tally of Knockouts (11). Therefore, a contest between him and Ngannou to determine the top contender in the division seems reasonable as well.
ADVERTISEMENT
Article continues below this ad
Source:  UFC stats, YouTube, Francis Ngannou- Instagram