Joanna Jedrzejczyk Gets Operated on Her Ear for Cauliflower Removal
Published 06/22/2020, 3:40 PM EDT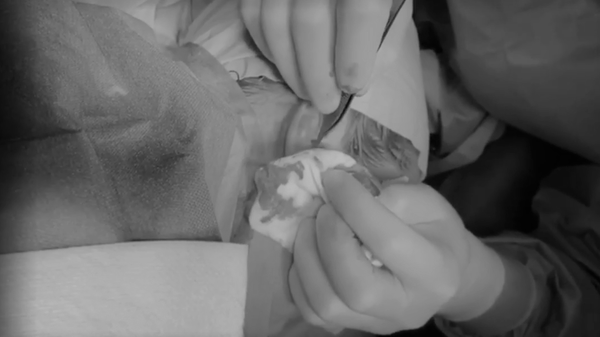 ---
---
Former UFC women's strawweight champion Joanna Jedrzejczyk got her Cauliflower Ear drained.
ADVERTISEMENT
Article continues below this ad
Ever wondered why many UFC fighters have weird ears? Well, the answer is simple. These athletes suffer from perichondrial Hematoma. In other words, 'Cauliflower Ear'. This condition occurs when blood collects in the outer ear after absorbing a significant amount of damage to the cartilage. Many fighters, including Tony Ferguson, Justin Gaethje, and Khabib Nurmagomedov suffer from it.
ADVERTISEMENT
Article continues below this ad
When a fighter suffers such injury, it is ideal for him/her to have the ear drained. Recently, ex-champion Joanna Jedrzejczyk underwent the procedure and uploaded the video on her Instagram.
Joanna Jedrzejczyk uploads graphic video
Warning! The following video contains graphic content that may be disturbing to most viewers. Viewer discretion is advised.
Here's a translation of the post by Google Translate.
"Warning! 😷 Video for people with strong nerves only
"As you know, sport, and even more professional, changes the human body. After all, we care about our physical and mental health as best we can. from muay Thai to MMA, I denied my arms and legs, afraid of serious injuries, leverage on the limbs, and cauliflowers on my ears. And yet🤷🏻‍♀️ After many years, I became the champion @ufc of the largest MMA organization in the world. 🏆 I laugh at today, as life can be perverse. 😄
"Only after 6 years of training and fighting did I get foolish cauliflower on my right ear. am I was afraid that I would get ugly. will restore our body to 100% functioning kal Appearing cauliflowers are not only an aesthetic problem but limited audibility or even worse ENT problems. Dear! ✊🏼 Sport spo rtem, but we are thinking about the future. ➡️ I'm lucky that a few years ago I came across dr. Mateusz Zachara @chirurgplastyk 👨🏼‍⚕️ A wonderful man and a great specialist! ❤️ Thank you Doctor and @ 0perativa 💖 You are the best! 🌟
"👸🏻 #medicalprocedure #earsurgery #cauliflowerear #lastic surgery # cauliflower #MateuszZachara #mma #wmma #ufc"
ADVERTISEMENT
Article continues below this ad
Was it necessary for Joanna to have her ear drained?
Absolutely! Check out what happened when Leslie Smith fought Jessica Eye at UFC 180.
ADVERTISEMENT
Article continues below this ad
Apparently, Smith didn't have her ear drained. And when Eye connected on the ear, it exploded mid-fight. Referee Herb Dean had no option but to call off the match.
MMA fighters aren't the only athletes who suffer from Cauliflower Ear. Boxers, wrestlers, and even rugby players experience this condition. Unsurprisingly, it is one of the most common forms of injury in combat sports. However, many sportsmen even consider it as a badge of honor.