Jon Jones has been arrested by the Albuquerque Police Department on Thursday early in the morning. Charges of DWI(Driving While Intoxicated), as well as negligent use of a firearm, have been filed against Bones. 
According to the arrest records, the arrest took place roughly around 1 a.m. local time. However, he has already been released and has a bond arraignment court date set for the 9th of April. 
According to the criminal complaint, the officers were responding to a report of shots being fired. The report came from the area of 3rd Street and Central Avenue. The officers on their arrival found the UFC light heavyweight champion in the driver's seat of a 2019 Jeep with the engine still running.
Noticing signs of intoxication the officers subjected Jones to a series of sobriety tests. Jones consented to it. However, his performance was rather poor. Following which he was subjected to a breath analyzer test and the results came back at or above two times the legal limit. Jones admitted that he had been driving earlier that night and had intentions of doing so had the officers not caught him.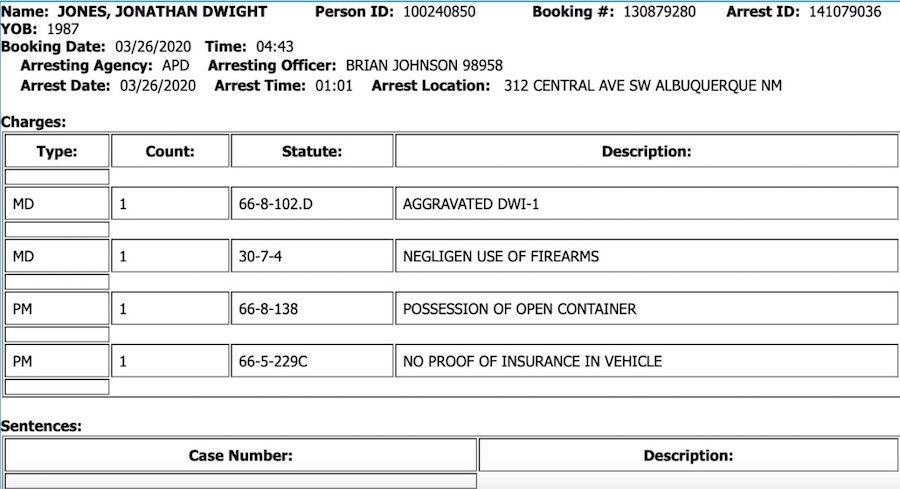 Following Jones' arrest, the officers found a black handgun under the driver's seat. They also found a half-empty bottle of Recuerdo Tequila behind the passenger seat. Jones claims he doesn't know anything about the gunshots being fired. 
Jones was charged with aggravated DWI, negligent use of a firearm, the possession of an open container and driving without proof of insurance. 
Jon Jones and His History With the Law
Regrettably, this is not the first time Jones has been on the wrong side of the law. When it comes to vehicular offenses Jones seems like a repeat offender.
Jones was arrested back in 2012 for driving under the influence in Binghamton, New York. He crashed his Bentley Continental GT into a pole. He had to pay a fine and his driver's license was suspended after he plead guilty to the DUI charges. 
The year 2015 saw him getting arrested for a hit-and-run in Albuquerque. He crashed into two different vehicles after running a red light. A warrant for his arrest was issued following which Jones turned himself in to the police. Pleading guilty to fleeing the scene of the crime, Jones was slapped with a sentence of 18 months of supervised probation.
However, when it comes to his career Jones has been rather successful. The 32-year-old fighter boasts of a record of 26-1-0. He took on Dominick Reyes the last time he stepped into the octagon. Bones took the win by unanimous decision. He has not yet been booked for his next fight.
Continue the conversation on Telegram, join other MMA fans on MMA Fans Group