Khabib Nurmagomedov Becomes Russia's Most Successful Athlete and Celebrity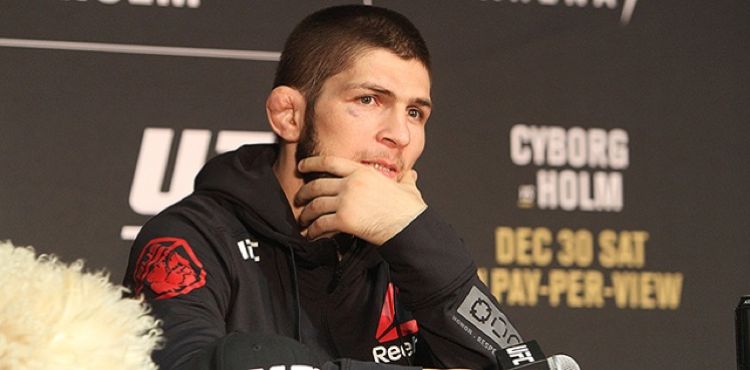 For the second time in a row, Forbes has named Khabib Nurmagomedov Russia's "most successful" celebrity and athlete under 40 years of age.
The UFC lightweight champion reportedly made over $16.5 million in the previous fiscal year. According to Forbes, these findings are based on Nurmagomedov's popularity, social media followers, sponsorships, and data from Yandex and Google.
Russian media personality Olga Buzova secured the second place. She has over 21 million Instagram followers whereas Nurmagomedov has 20 million.
It is worth noting that Khabib does not endorse alcohol, cigarettes, and gambling products. He has secured sponsorship deals with Reebok, Toyota, Gorilla Energy drink, and Alhadaya (black cumin oil).
Khabib Nurmagomedov makes an absurd amount of money for speaking engagements
Did you ever feel like you need a pep talk from Khabib? Well, if that's the case then be ready to shell out a ton of cash.
When BJ Penn.com reported that the Dagestani earns $78,000 (5.5 million rubles) for speaking arrangements, Ali Abdelaziz claimed that the data is inaccurate. He stated that Khabib makes at least $300,000 per day for speaking engagements.
This is little bit wrong his speaking engagements 300k per day minimum https://t.co/2ehBJtd3Le

— Ali Abdelaziz (@AliAbdelaziz00) June 30, 2020
Khabib's star power has increased tremendously since his victory over Conor McGregor. His last match was against Dustin Poirier in 2019. "The Eagle" reportedly made over $10 million in that fight.
He was set to return in April 2020. However, travel restrictions forced him to pull out of his scheduled match with long-time rival Tony Ferguson. Subsequently, Justin Gaethje fought Ferguson and managed to end "El Cucuy's" 12-fight win streak.
Khabib vs Gaethje is likely to place in September. "The Highlight" is expected to be the Russian's toughest challenge yet. Although the venue remains unconfirmed, fans expect the fight to be held in Abu Dhabi.
Also Read: "Khabib Is Rich As F**k"- Dana White Claims Khabib Nurmagomedov Does Not Need Conor McGregor Rematch
What are your thoughts on Khabib Nurmagomedov's earnings? Do you think that he can become the highest-paid athlete in the UFC?
Continue the conversation on the app, join other MMA fans on MMA Fans App