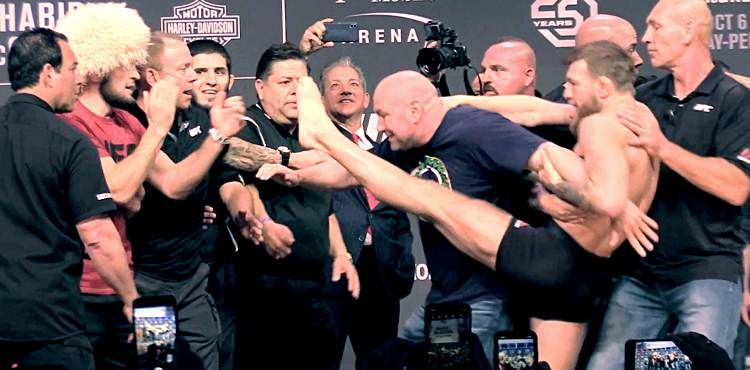 Khabib Nurmagomedov is unranked on the GOAT list of Conor McGregor and the reason behind it will shock you. Recently McGregor's "GOAT List" sent waves across the internet. The Irishman named the Greatest Fighters of All Time, in which he included Anderson Silva, himself, Jon Jones, and Georges St-Pierre respectively.
Fans around the world poured in their feedback and McGregor took some time out to defend his argument. When a fan pointed out that his list was "nonsense" because Demetrious Johnson was not included in it, McGregor responded with an explanation.
Similarly, another fan questioned him about Khabib's ranking and McGregor's answer will surprise you.
Khabib Nurmagomedov remains unranked on the list from Conor McGregor
McGregor said that Nurmagomedov possesses a "fancy record" but still has a long way to go before he makes it to the GOAT list. He stated that the only highlight on Khabib's record is a victory over him.
Furthermore, he claimed that Khabib boosted Al Iaquinta's career by putting up a bad performance. He also highlighted the fact that it took Khabib three rounds to finish Dustin Poirier, whereas McGregor finished Poirier in one.
Fancy record but a way to go before any GOAT entry. Only HL is win over me with hangover and broken foot. Other than that, made Iaquintas career with bad performance before Cerrone ended it again. 3rds to get Poirier out. 0 array of finishes. Bottled many bouts. Zero else of note

— Conor McGregor (@TheNotoriousMMA) May 23, 2020
The truth behind McGregor's claims
No doubt that Khabib does not have more knockouts in his career than McGregor but that's not his fighting style. The Dagestani is predominantly a wrestler who dominated almost all of his opponents on the ground.
Although Iaquinta provided the most resistance, one cannot ignore the fact that Khabib dominated the bout. Even in the standup, Khabib was dishing out damage with his jab.
And despite getting rocked in the Poirier fight, Khabib proved that he can handle adversity and come out victorious. Hence, It is safe to say that Conor McGregor has not included Khabib on the list because of their existing rivalry.
Do you feel that Khabib Nurmagomedov deserves a spot on the GOAT list?
Continue the conversation on the app, join other MMA fans on MMA Fans App