"Payback is a B***h"- Here is Why You Never Mess Around With Nate Diaz
Published 05/05/2020, 2:25 PM EDT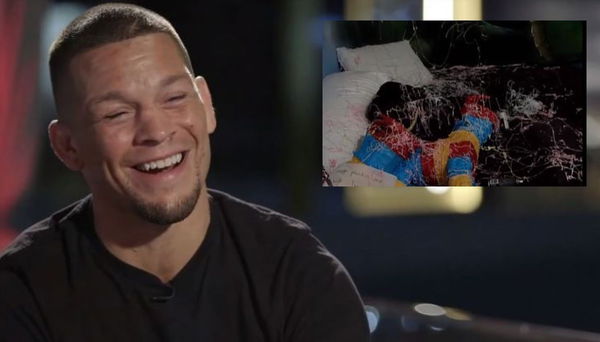 We all know what happened when Charlie Rader flipped off Tony Ferguson on The Ultimate Fighter. If that was not crazy enough, check out what Nate Diaz did in the fifth season of TUF.
ADVERTISEMENT
Article continues below this ad
The Ultimate Fighter is the UFC's reality show in which professional mixed martial artists train and compete for a six-figure contract with the company. It gives us an inside view of a fighter's life; how they behave, communicate, train, etc.
When you have a couple of young and hungry fighters under one roof, things are bound to go south at one point or another. TUF 5 featured two teams: Jens Pulver and BJ Penn. Nate Diaz and Cole Miller were on team Penn.
ADVERTISEMENT
Article continues below this ad
Cole Miller sends a message
Miller tried to deliver a message to Diaz, asking him to stop messing around while he was sleeping. Nope! He did not hand Diaz the letter. Instead, he ordered piñatas, wrote a message on a piece of paper, and stabbed a piñata—with a knife—along with the paper.
He also covered his bed with silly string and lathered his walls with whipped cream. When Nate arrived, he was shocked! The duo had a friendly scuffle inside and outside the villa. Nate got a hold of Miller and tossed him around, and applied whipped cream all over his face.
Nate Diaz gets his revenge
During the entire situation, Miller was laughing out loud. Nate, on the other hand, wanted an actual brawl. Both men then dumped each other's beds in the swimming pool.
ADVERTISEMENT
Article continues below this ad
It seemed like the duo finally settled their beef. But Diaz was not done. He had other plans. At 3 in the morning, Nate dumped a bucket of cold water on Cole. His buddy, Manny Gamburyan joined him and put baby powder on Cole.
"Payback's a b**ch" – Nate Diaz said.
ADVERTISEMENT
Article continues below this ad
Eventually, Diaz got the last laugh. He would go on to win the season and become one of the most famous personalities in the UFC. His last fight was against Jorge Masvidal; Diaz lost the fight in a controversial stoppage.
How would you rate Nate Diaz's prank game?