"People are Full of S**t": Dana White Defends Jose Aldo
Published 03/06/2020, 3:03 PM EST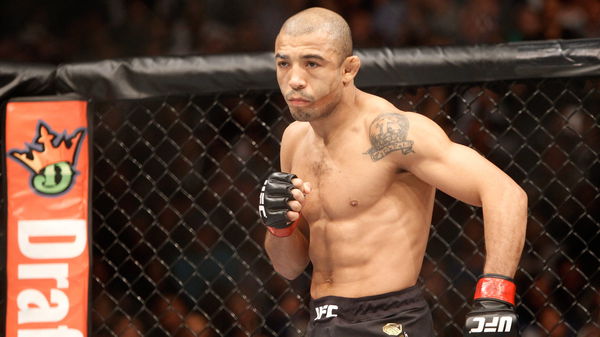 ---
---
When the Ultimate Fighting Championship (UFC) set up Jose Aldo against Henry Cejudo, it wasn't well received. Many believed Aldo shouldn't have got a shot at the bantamweight title ahead of other contenders.
ADVERTISEMENT
Article continues below this ad
Aldo, a proven champion in the middleweight category, fought his first bantamweight fight last year against Marlon Moraes. The fight ended in a controversial decision loss for Aldo. The loss led many into believing that there were better contenders than Aldo against Cejudo. However, UFC President Dana White believed that Aldo deserved to win the fight against Moraes and Cejudo requested a fight against him believing the same.
"I think [Jose Aldo] won," White told TMZ when asked about Aldo's fight against Moraes. "I think the judges got it wrong and he won the fight. When you've done what Cejudo has done, he agrees.
ADVERTISEMENT
Article continues below this ad
"He texted me right after the fights and said Aldo won that fight. He wants to fight Aldo, he wants to fight the legend."
White did not go easy in people who were opposing the idea of the fight.
"Then don't watch it!" White said. "People are full of sh*t. People are full of sh*t, it's going to be an incredible fight. Aldo absolutely deserves this. Cejudo wants it.
"The champ-champ, the guy who won belts in two divisions wants to fight Aldo. So what does that mean? And Cejudo isn't a guy running around looking for easy fights."
Dana White believes Henry Cejudo doesn't just look for easy fights and Jose Aldo is a worthy opponent
ADVERTISEMENT
Article continues below this ad
The fight between Cejudo and Aldo will headline UFC 250 in Sao Paulo, Brazil on May 9. UFC set the fight up on Cejudo's request. White believed that Cejudo wasn't among the people who would call out easy fights to keep his title safe.
"Jose Aldo has been a bad mother***** his whole career, and a guy like Cejudo wants to fight him," White told reporters ahead of UFC 248. "Instead of criticizing, you should respect that, the fact that he wants to fight Jose Aldo. Cejudo isn't a guy running around looking for easy fights. He's not like, 'Oh, I want this guy or that guy,' and coming off the fight he just fought, to win his second belt, and the way that he won it, this isn't a guy looking for easy fights."
ADVERTISEMENT
Article continues below this ad