REPORTS: Daniel Cormier Suffers Torn Cornea After Stipe Miocic Eye Poke
Published 08/16/2020, 1:59 PM EDT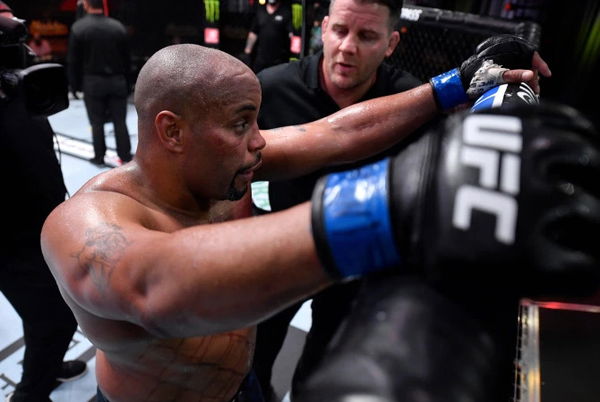 The last fight of Daniel Cormier didn't go as per his expectations. He couldn't capitalize on a chance to win the UFC heavyweight belt. However, Cormier may have bigger problems to deal with due to the eye pokes that he suffered during the fight. The former double champ may even require surgery to undo the damage done in his eye.
ADVERTISEMENT
Article continues below this ad
ADVERTISEMENT
Article continues below this ad
Late in the third round of their rubber match, Stipe Miocic extended his right hand forward. It ended up striking deep in Cormier's left eye. He complained to referee Marc Goddard about the same. The ref, at the moment, thought that it was a punch and not a poke. When Cormier returned to his corner in between the rounds, he cleared that he couldn't see out of his left eye.
While it was clear that there was something wrong with his eye, we now have reports coming in that Cormier has suffered a torn cornea. MMA journalist and Cormier's friend and co-host, Ariel Helwani reported the news.
Daniel Cormier suffered a torn cornea last night, Cormier told me this morning. No timetable yet for recovery. Doctors said he won't need surgery just yet but they have to monitor how it heals before knowing for sure. He was discharged from the hospital late Saturday night.

— Ariel Helwani (@arielhelwani) August 16, 2020
During the post-fight interview, Cormier refused to put the blame of the loss on the issues with the eye. Taking a page out of his friend Max Holloway's book, he rested the matter on 'it is what it is'.
UFC supremo Dana White was also of the same thought. He even added that Cormier's eye was injured even before the poke from Miocic.
ADVERTISEMENT
Article continues below this ad
Stipe Miocic had also suffered a torn retina after the second fight with Daniel Cormier
The history of eye pokes between the two heavyweights isn't something new. During their first meeting that lasted less than a round, Cormier had poked Miocic in the eye. The referee even stopped the fight giving Stipe the time to recover.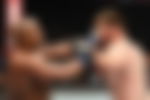 ADVERTISEMENT
Article continues below this ad
The rematch, which Stipe won in the fourth round, also had some eye-pokes. Miocic had to undergo surgery to repair a torn retina following the encounter. That was also one of the reasons why the trilogy was delayed.
After the fight, Cormier asserted that he only wants to fight for the title. Since he doesn't see himself in that position, this may as well be the end of the road for him. While fans couldn't witness a fairy-tale ending of a Hall of Fame-worthy career, they will hope and pray that DC's eye gets back to normal as early as possible.