"She Used To Sweat Me"- Colby Covington Reveals Details About Relationship With Joanna Jedrzejczyk
Published 03/18/2020, 3:02 PM EDT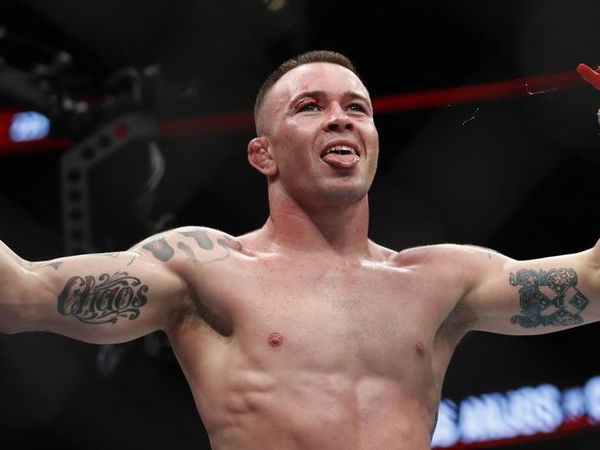 ---
---
Colby Covington may have buried the hatchet with teammate Dustin Poirier. However, unsurprisingly Poirier is not the only American Top Team fighter Covington has beef with. Chaos recently doubled down on his feuds with teammates Jorge Masvidal and Joanna Jedrzejczyk.
ADVERTISEMENT
Article continues below this ad
Since Covington's habit of rubbing everyone except Donald Trump the wrong way has escalated to his teammates, Chaos has lost the support of his teammates. Including Jedrzejczyk who wants Covington to apologize for his behavior towards the ATT fighters and women in general.
Covington does not seem very keen to mend bridges and repair relationships with his teammates. Covington opens up about his "relationship" with Joanna Jedrzejczyk in an interview with theScoreMMA podcast.
ADVERTISEMENT
Article continues below this ad
"I gave my apology that Joanna was looking for. Joanna's been begging for me to apologize for some time now… for something I didn't even do. She wants me to apologize because she freaked out at me at ATT. She starts screaming at me for no reason. Because she used to sweat me and I didn't want to take her out on a date."- Colby Covington to theScoreMMA
The altercation between the two ATT fighters took place while Jedrzejczyk was training for her fight with Michelle Waterson. The All American fighter claims Jedrzejczyk is looking for an apology and slandering his name because he doesn't find her attractive.
ADVERTISEMENT
Article continues below this ad
"The nice guy that I am, I gave her an apology. I said, 'I'm sorry Joanna, I'm sorry that you're gonna get your face rearranged this weekend and we're all gonna make a bunch of money. And that's exactly what happened, I called it to a T."- Colby Covington
Chaos adds that Jedrzejczyk went out of her way to come and give him a piece of her mind. He claims that he listened to her patiently while she said her piece.
"Everybody has an opinion. They're like a******s, some of them stink and yours stinks. It has no truth or validity to it. It's fake news and that's what she does."- Colby Covington
ADVERTISEMENT
Article continues below this ad
Covington says he is long overdue for a fight. The last time he stepped into the octagon was in December 2019, taking on Kamaru Usman at UFC 245 in a title fight. Covington went down in the fifth round by TKO and Usman came away with the win.