"The King of Cringe Called It"- Henry Cejudo Predicts Khabib Nurmagomedov vs Tony Ferguson
Published 03/02/2020, 1:28 PM EST
---
---
Khabib Nurmagomedov will face Tony Ferguson in the main event of UFC 249 in New York. The duo was scheduled to fight multiple times prior but different factors prevented the fight from happening. With the fight right around the corner, Bantamweight champion Henry Cejudo gives his prediction.
ADVERTISEMENT
Article continues below this ad
Khabib Nurmagomedov is one of the best wrestlers in the UFC. The Dagestani has dominated his opponents throughout his career. Till now, he holds an undefeated record of 28-0.
Khabib has one of the best gas tanks in the sport. With his relentless pace and pressure, he has managed to take down almost all of his opponents. When Khabib takes his opponents down, it can be guaranteed that they are not getting back up.
ADVERTISEMENT
Article continues below this ad
From there, he either ground and pounds them into unconsciousness or mercifully submits them. Throughout his career, he has learned to mask his takedowns behind his strikes.
On the other hand, Tony Ferguson is an animal. Since his loss to Michael Johnson, Tony became one of the most lethal mixed martial artists on the planet. Like Khabib, Tony's cardio is off the charts. He has the most unorthodox striking combined with a dangerous ground game.
Unlike most fighters, Tony triumphs on his back. He can throw his signature elbows as well as attempt submissions from his guard. He has one of the most treacherous guards in the game.
Khabib Nurmagomedov by TKO: Henry Cejudo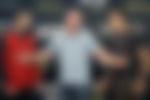 Cejudo, who is the current UFC bantamweight champion predicted the outcome of Khabib vs Tony. He said, "
Khabib. TKO. First-round. The King of Cringe called it."
ADVERTISEMENT
Article continues below this ad
Cejudo believes that Khabib will win the fight within the first minute of the first round. He also mentioned that the first punch of the fight will be the last.
Khabib is not known for his knockout power as much as he is known for his wrestling. One can say that Cejudo was just expressing his support to a fellow wrestler. Both Cejudo and Khabib are managed by the same manager, Ali Abdelaziz.
ADVERTISEMENT
Article continues below this ad
What's your opinion on Khabib vs Tony?