There have been a lot of speculations revolving around the cancellation of UFC 249 amidst the rising threat of Coronavirus.
With sports events around the globe facing the wrath of the pandemic, it is highly likely that the UFC too will soon succumb to it. Daniel Cormier, too, recently took to twitter expressing his concerns about the feasibility of conducting an event as huge as UFC 249.
It's only gonna get worst, the tournament won't happen! #sucks https://t.co/1DJ4cXIfcI

— Daniel Cormier (@dc_mma) March 12, 2020
Cormier seems absolutely certain of the fact that UFC 249 will not take place. However, the President of UFC, Dana White thinks otherwise. When asked about the coronavirus and its effect on the UFC's proceedings, he said,
"When it comes to the safety of the athletes and the fans and everything else, no matter where we go, what we do, we are always concerned with that. We've been thinking about this for weeks. Dr. Davidon's been involved. Yeah, I don't know what else to say other than that. We're not canceling the event if you're asking that."
Dana White does not want anything to come in his way of making UFC 249 a reality. After all, it is one of the most crucial events in UFC history, with Khabib and Tony finally coming together inside the octagon.
What will we be missing with UFC 249?
UFC 249 promises to be one of the most exciting events ever. Khabib Nurmagomedov will defend his Lightweight title against Tony Ferguson.
Two of the most dominating fighters in their division, Tony and Khabib share a mutual respect for each other's skills. They are both on an unimaginable 12-fight win streak and thus, this fight in a way will be the deciding fight for the declaration of this generation's greatest Lightweight.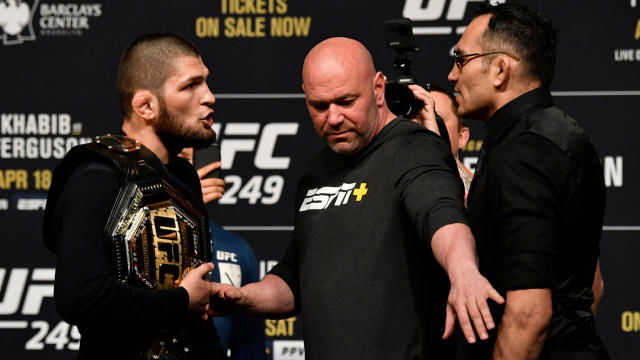 Yet, it seems like the fight will just have to wait. Sports events like NBA, Serie-A and Indian Wells have already been canceled under the prevailing conditions. And the situation is only getting worse.
Moreover, this is not the first time that a fight has been fixed between the two. In fact, there have been four such situations in the past when a fight between the two was canceled.
Do you think that the fixture will finally materialize, given the bizarre conditions?
Continue the conversation on the app, join other MMA fans on MMA Fans App