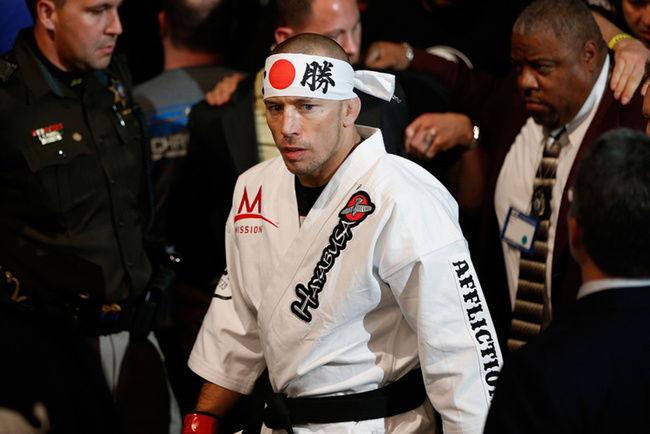 Georges St-Pierre categorizes mixed martial artists into three types.
GSP is a legend of the sport. The former welterweight and middleweight champion has dominated almost all of his opponents. His incredible ability to adapt and improvise set him apart from the fighters of his time.
After winning back the belt from Matt Serra, GSP had one of the most impressive title reigns in UFC history. Georges went on a nine-fight win streak at welterweight. His last fight in the 170 lbs division was against Johny Hendricks, a fight that ended in a controversial decision.
After that, he took a break from MMA and returned in 2017 to fight Michael Bisping for the middleweight championship. Although Bisping had his moments in the match, GSP's superior intellect helped him set a trap, which led to the finish.
Georges St-Pierre classifies Combat Sports players into three types
Ever since the pandemic began, GSP has spent more time giving out knowledge to his fans. In a recent Instagram video, "Rush" said that there are three types of Combat Sports players.
"There's three types of people in combat sports: The fighters, the athletes, and the artists. The fighters are characterized by an unbreakable will. And are ready to give up everything to win.
These Instagram videos of Georges St-Pierre dropping knowledge and sharing his wisdom on the fight game have become my new favourite thing in MMA.

"There are 3 types of people in combat sports. The fighters, the athletes and the artists."

(via @GeorgesStPierre) 🧠 🐐 pic.twitter.com/09FccPvOab

— Chamatkar Sandhu (@SandhuMMA) July 7, 2020
"The athletes are the most athletic and the fastest learners. They could probably be successful at doing any other sports. The artists are the most creative. They often find different approaches to solve their problems.
"Every person has a percentage of each type in themselves. However, one type dominates over the others. All types have been champions. But I believe it is imperative to find your type to optimize your preparations for best results."
There is no doubt that GSP is an extraordinary martial artist. He has been a role model for many people across the world. Despite his incredible talent inside the cage, Georges St-Pierre is a humble man outside of it.
The Canadian fighter announced his retirement in February 2019 and was inducted into the UFC's Hall of Fame this year.
Continue the conversation on the app, join other MMA fans on MMA Fans App