"They Don't Deserve a Roster Spot" – Curtis Blaydes Opens up on Gender Equality in UFC
Published 06/17/2020, 2:24 PM EDT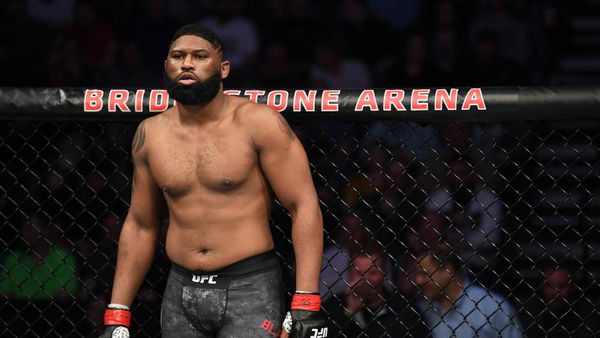 ---
---
UFC heavyweight Curtis Blaydes said that he is not against women's MMA. However, he believes that some of them don't deserve to be on the UFC roster.
ADVERTISEMENT
Article continues below this ad
Last month, Blaydes went off on a couple of female MMA fighters in the UFC. "Razor Blaydes" claimed that fighters like Paige VanZant, Rachael Ostovich, Pear Gonzalez are using their sexuality to stay relevant. Unsurprisingly, his words didn't go unnoticed. VanZant and Gonzalez were quick to fire back at the heavyweight.
Curtis Blaydes is a fan of fighting regardless of gender
ADVERTISEMENT
Article continues below this ad
"I love watching the top girls get in there and put on high displays of fighting," Blaydes told MMA Fighting. "We just saw UFC 248, Joanna [Jedrzejczyk] and [Zhang] Weili, that was one of the best fights I've ever seen regardless of gender. That was one of the best performances I've seen ever. The back and forth, the high IQ techniques, the counters, the movement, I like that stuff.
"But just like there's dudes in the men's division I feel don't really do a good job representing MMA, [and] I feel they don't deserve a roster spot. I'm not dropping names, but there are dudes who don't deserve it and there are girls who don't. It's equal opportunity."
Curtis then mentioned that he doesn't have any opportunity in the company besides fighting.
"I have to get in the gym and perfect my craft and go out there and beat somebody. Your record should be indicative of a top [world-class] fighter. Being in the UFC with a 6-5 record or 5-4, it doesn't look like you belong in the UFC."
Furthermore, he pointed out to the skillset of some female MMA fighters. The American fighter does not see any improvement in their game.
"You should have more than combo after eight years in MMA. There are a lot of girls like that. They have one skill set, one move and I get them signing with the UFC and I get them getting paid. I think those spots would go to other girls, but they're not as marketable I guess."
Blaydes compares UFC to NFL
ADVERTISEMENT
Article continues below this ad
Blaydes said that the NFL will let go of any player that can't play. According to him, things are different in the UFC.
"They're (NFL) going to release you. They love doing that. If you cannot do the main thing you're supposed to do, which is fight. If you're not good at that part, why am I paying you money?
"That's not me hating on women's MMA. I enjoy a good fight regardless of the weight, regardless of the gender. If they're good, they're going to put on a good, exciting, entertaining performance and I'm going to watch it. There are a ton of girls who do that. I don't know where everyone is getting this misconception that I'm against women's MMA cause I'm not."
ADVERTISEMENT
Article continues below this ad
Blaydes has an upcoming fight against Alexander Volkov. He will face off against the Russian inside the UFC Apex.