"They're Ugly Souled" – Jessica Eye Trashes Joanne Calderwood and Lauren Murphy
Published 06/16/2020, 12:32 PM EDT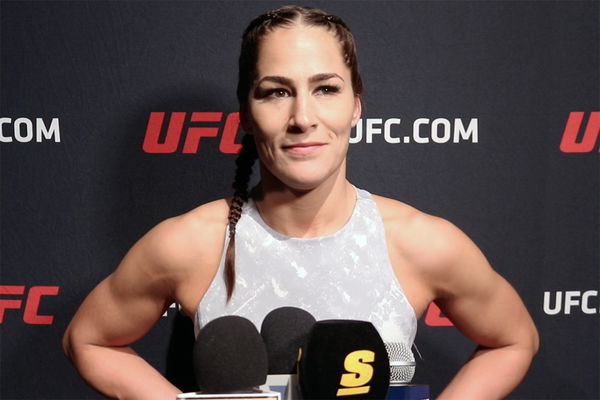 ---
---
After a brief scuffle on Twitter, former UFC flyweight title challenger Jessica Eye stated that she has no interest in fighting Joanne Calderwood. However, she hasn't let go of her ill-feelings towards Calderwood and Lauren Murphy.
ADVERTISEMENT
Article continues below this ad
Last Saturday, Eye suffered her eight professional loss at the hands of Cynthia Calvillo. The Mexican-American dominated Eye throughout the fight. She took her down and imposed her will. Nevertheless, the real drama occurred during the weigh-ins.
During the post-fight press conference, Calvillo claimed that Eye held the towel during the weigh-in. She also revealed that Eye's coach had texted her manager stating that the American will miss weight by 3.5 lbs. But Eye was just 0.25 lbs over the limit.
ADVERTISEMENT
Article continues below this ad
Fans were quick to catch up as "Evil" received a ton of heat on social media. Among all the people that trashed her, fellow flyweight Joanne Calderwood stood out. "Jojo" accused Eye of being fake and putting up an act.
This was followed by a long back and forth between the two. Read the full story below.
"You Are As Fake As the Act You Put On"- Jessica Eye and Joanne Calderwood Exchange Blows on Twitter
Jessica Eye will not fight Joanne Calderwood
In an interview with MMA Fighting, Eye reflected on her loss to Calvillo. She denied holding the towel and asserted that it was her true weight. Furthermore, Eye said that she will not battle it out with Calderwood.
"I'm not going to go into the said [she said] bullsh*t because nobody has anything else to talk about. The fight's over with. The weight's over with… I'm not going to fight with [Joanne] 'Jojo' [Calderwood]. I'm not going to fight with these people over minuscule sh*t that really doesn't mean anything," Jessica Eye said.
Eye wants Calvillo to beat Joanne Calderwood again
Despite the accusations, Eye did not hold any grudges towards Cynthia. Calderwood, on the other hand, was not so lucky. Eye wants Calvillo to defeat Calderwood like their first meeting in 2017.
"I hope she goes on and takes on the division and does great things," she said. "I hope she goes back and beats 'Jojo' just like she did the first time and maybe does something good for this sport. That's always my mindset on all this. I'm not a hater."
ADVERTISEMENT
Article continues below this ad
Additionally, she trashed Lauren Murphy and Calderwood for being bullies.
"Between Lauren Murphy and 'Jojo' – I just don't get them," Eye said. "They want to act like these sweet women, but in all reality they're ugly-souled. They talk about people, they go to Twitter to recruit people.
ADVERTISEMENT
Article continues below this ad
"They're bullies. That's like real-life bullying. As much as they want to sit back and say, 'I'm so nice, I'm so sweet,' you're real-life bullies. That's exactly what a bully is in definition."