THROWBACK: When Brock Lesnar Mocked Ariel Helwani With a Befitting Response
Published 03/04/2020, 4:19 PM EST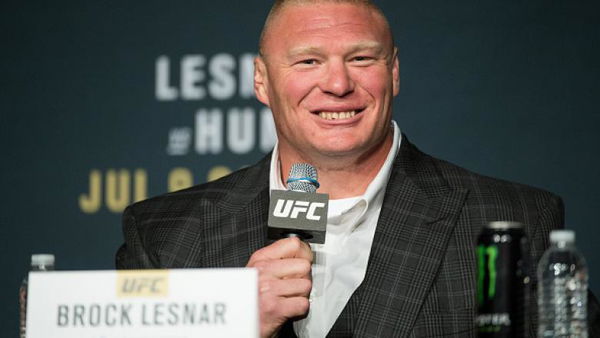 ---
---
Brock Lesnar fought Mark Hunt at UFC 200 in 2016, winning a unanimous decision that night. That decision was later overturned to a no-contest when Lesnar failed a USADA drug test.
ADVERTISEMENT
Article continues below this ad
The atmosphere prior to the fight was well-hyped as Lesnar was making a return to UFC after quite a while. Naturally, there were a lot of questions about Lesnar's preparations for the fight. It was in one such prematch interviews that Lesnar had a funny answer to a journalist asking him about his preparations.
When Ariel Helwani of ESPN asked Lesnar about the number of rounds he had sparred for the fight, Lesnar jokingly gave 3000 as an answer.
ADVERTISEMENT
Article continues below this ad
Mark Hunt felt the fight against Brock Lesnar was more than just controversy
Two years after the fight, when Lesnar returning to the UFC, Hunt talked about the controversial fight in an interview with Submission Radio condemning the UFC's decision.
"Well, why do we have ranking for?" Hunt asked. "And it is what it, is man. That's not my call, that's just the way it is. I think it's s**t though."
Hunt did not like the idea of calling the fight controversial as he believed it was clearly a case of cheating and UFC should have made better decisions.
ADVERTISEMENT
Article continues below this ad
"How's that work? The motherf**ker's a cheater. How is that controversy? F**king little c**t is f**king cheating, using steroids. F**k, man, how is that – [you're] talking 'a little bit of controversy?' The f**king guy is cheating," Hunt said.
"He's cheating and trying to hurt me and you say, 'oh, we're going to be nice here'. F**k that cheater. How are you gonna be nice to the guy that is taking shortcuts, man? Don't give him that. Why would you want to give him that sort of s**t? F**k, they don't deserve it. You know, all these guys are just shortcut takers, and to me that's all they'll ever be. Nothing else."
"I said to Dana already about the s**t, you know, take that motherf**ker's money off him. Don't give it to me, just take it off the c**t so he doesn't get nothing. "
ADVERTISEMENT
Article continues below this ad