THROWBACK: When Israel Adesanya Pretended to Urinate in the Octagon
Published 03/07/2020, 4:09 AM EST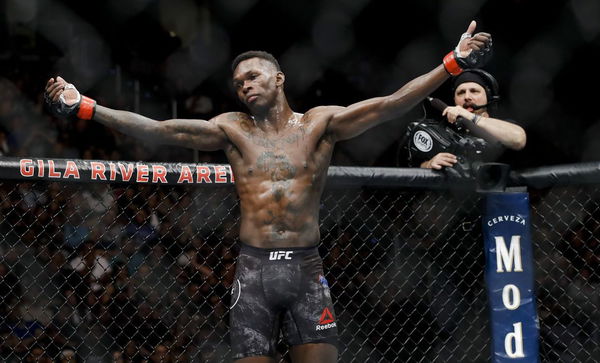 ---
---
The UFC debut of Israel Adesanya marked the beginning of an extraordinary career. When Israel Adesanya made his UFC debut in 2018, he already had a decent combat sports experience. It showed when he fought Rob Wilkinson at UFC 221 in February 2018.
ADVERTISEMENT
Article continues below this ad
Wilkinson had as many as 16 takedown attempts on the debutant on the night but Adesanya managed to defend himself. Adesanya eventually knocked his opponent out in the second round. He landed an uppercut and a knee when Wilkinson's nose started to bleed. Adesanya continued to land punches and knees until the referee ended the fight. At 3:37 seconds of the second round, Adesanya won via TKO.
His arrival was indeed a memorable one. "Attention all middleweights, I'm the new dog in town and I just pissed all over this cage," he said in his post-fight interview.
ADVERTISEMENT
Article continues below this ad
Adesanya went on to explain his actions after the fight.
"Came in the cage, pissed everywhere. I know dogs when they're dominant; when a dog walks into a dog park – head high, tail high, and just kinda pees all over the place to mark his territory. And let them know, 'that's my spot'. That's how dogs communicate with body language, so I just pissed all over the place," he said.
Adesanya might have shown toughness in the bout but he eventually broke down with the emotion of his first UFC win. Tears rolled down his cheek as he walked down the tunnel.
Israel Adesanya prepared for the fight against Yoel Romero
The last Stylebender is currently scheduled to fight Yoel Romero to defend his middleweight title. He is believes Romero will come hard at him as it will be his last chance to claim UFC gold. But Adesanya feels he is ready for whatever Romero brings up.
ADVERTISEMENT
Article continues below this ad
"This is his last chance to clutch something that I have, something that he has had many chances to get and failed to get," Adesanya said.
"From my two fights in the UFC, look at how I look in the later rounds and look at how he looks in the later rounds."
"He might try and coast and if he coasts, he's gonna be in trouble from the get-go. It's gonna be too late by the time he gets into the deep waters… I've already said too much"
ADVERTISEMENT
Article continues below this ad