THROWBACK: When Israel Adesanya Suffered a Rare Loss Via Decision
Published 03/05/2020, 3:32 PM CST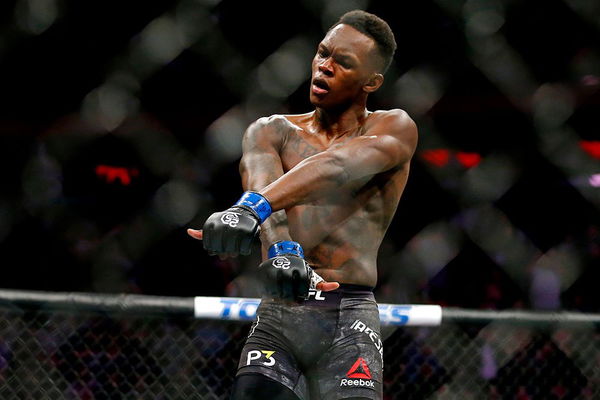 ---
---
The rise of Israel Adesanya through the ranks in the field of combat sports. He tasted defeat very sporadically throughout his known career.
ADVERTISEMENT
Article continues below this ad
One of the very few defeats that Adesanya suffered in his career was in November 2009 against Neroni Savaiinaea. The two fought at ICNZ 8 in Israel on November 28, 2009. After fighting for three rounds, Adesanya lost by decision.
ADVERTISEMENT
Article continues below this ad
Almost a decade later, Adesanya entered the Ultimate Fighting Championship (UFC). When he made his UFC in 2018, Adesanya already had a good combat sports experience. His rise through the ranks of UFC has been fast.
Israel Adesanya wants to get on top of the Middleweight division
Currently the UFC middleweight champion, Adesanya has set up a fight against Yoel Romero. Romero isn't the easiest of opponents and Adesanya calling him out for a fight didn't seem to be the best of ideas. However, Adesanya seems prepared when he said that he always plans for stuff and doesn't make hurried decisions.
"You guys don't understand how much I planned this sh*t," Adesanya told MMA Fighting. "I planned it, me and my coach from the jump. I'm glad I wasn't 23 with all this money, all this fame.
"Now I'm 30. I'm smart. I know exactly who I am and I'm still learning about myself but I'm not a young, dumb, full of c*m kid, who makes f*cked up decisions. I'm smart about the way I move. I'm smart about the way I conduct myself outside the Octagon, like who I associate myself with. I've taken the right precautions to make sure I'm just not another statistic."
ADVERTISEMENT
Article continues below this ad
Adesanya, 30, said he wanted to conquer the Middleweight category. He had challenges to move to a different division but Adesanya is interested in beating the top fighters in the current division before moving to another.
"I could have jumped up already and fought at light heavyweight like everyone else is doing but I want to wipe out the division like guys like Demetrious Johnson and guys like Georges St-Pierre," Adesanya said. "Guys like Anderson Silva, who stuck with a division, cleaned it out and then moved up.
ADVERTISEMENT
Article continues below this ad
"Jon Jones hasn't done that. He's been there 10 years and he's expecting me to move up in just my second year in the company. Me, I like middleweight and I'd like to clean it out but I like to challenge myself. That's what it's about."