THROWBACK: When Nick Diaz Said He Was Poisoned Right Before His Fight
Published 03/17/2020, 3:34 PM EDT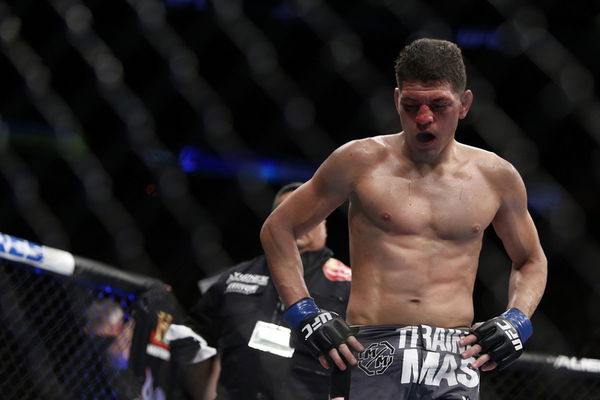 ---
---
After wanting to fight the then Welterweight champion Georges St-Pierre for over two years, Nick Diaz finally got his wish in 2013. The UFC 158 headlined a fight between the two at the Bell Center in Canada.
ADVERTISEMENT
Article continues below this ad
Diaz lost the fight via a unanimous decision but he never thought the fight was fair. He believed that someone poisoned him before the fight that put him to strong sleep.
"I think whoever tries to make that fight, I'm gonna have to give him a backhand slap," Nick said. "At the end of the day, I fought [St-Pierre], they poisoned my IV with some kind of weird-ass drug. It put me to sleep!"
ADVERTISEMENT
Article continues below this ad
"I have 37 fights, been fighting for 17 years, I never slept more than five or six hours a night. I slept 14 hours, I'm like 'What did you put in my IV, dude?' I never had anything but clear IV. And there was something wrong with his wraps. I know they didn't test us either because they were filling up all our piss inside little film containers."
The fight had gone to till fifth round. After initially dominating the fight, GSP showed signs of slowing down. However, Diaz never really felt the fight was just.
"I was flat on the way out, I was like I'm in the best shape of my life," he finished. "Everything was strange. No disrespect, I don't think Georges did nothing, I think people were trying to pull something."
ADVERTISEMENT
Article continues below this ad
Nick Diaz also felt Georges St-Pierre was on steroids
Not only did Diaz feel he was poisoned but he also later claimed that GSP was on steroids.
"Georges St-Pierre was on steroids when I fought him," Diaz told on Chael Sonnen's podcast in 2015.

ADVERTISEMENT
Article continues below this ad
"They didn't test us because I would have tested positive for sure. I thought it was my last fight ever. What do I care? It's like almost asking too much to win and not give away that fine.  I'm like what do I care about the fine?"