"Training With Belt And Jeans?"- Khabib Nurmagomedov Blasts Tony Ferguson
Published 03/17/2020, 12:45 PM EDT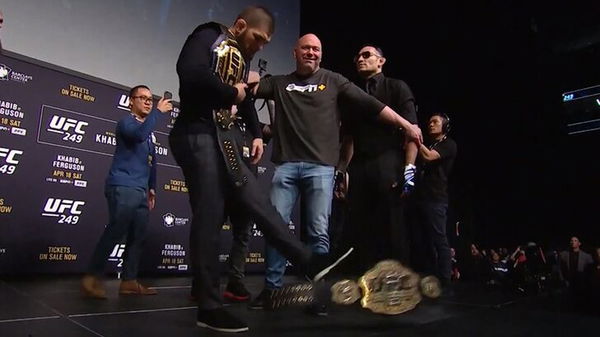 ---
---
Khabib Nurmagomedov has shared his opinion on Tony Ferguson's wrestling work out. And he does not seem impressed.
ADVERTISEMENT
Article continues below this ad
ADVERTISEMENT
Article continues below this ad
The video shows Tony executing some wild moves on what seems to be a training block. But here's the thing. He is working out while wearing jeans. And a belt.
While it is commendable to see El Cucuy take down the large block and somersault over it in casual clothes, Khabib seems unimpressed.
Khabib has always been a dedicated and disciplined warrior in the traditional sense. Thus, when he sees an opponent- no matter how formidable- practicing without proper gear, he will display resentment.
However, Khabib knows better than to compare Tony's practice habits to his skills. "The Eagle" has mentioned repeatedly that he feels that Tony is the toughest opponent to come in his way and is training extra hard for the same.
One has to admit, the suplex that Tony executed even with his "unfit attire" was amazing. The sheer ruthlessness and precision that he depicts is what makes him one of the scariest dudes in the UFC.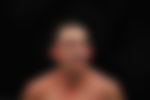 Yet, we all know that this is not the first time that the UFC has fixed a fixture between the two. The organization has matched the two 4 times in the past, but unforeseen events canceled the matches every time.
And now, we are headed towards the fifth fixture between these two Lightweight elites. While everything was going just okay from the fighters' sides till now with nothing to cause a disruption to their fight, there's a whole new problem inbound.
Is Khabib Nurmagomedov vs. Tony Ferguson cursed?
The COVID-19 has gripped the entire planet, and the situation is only getting worse. Sports tournaments including NBA and Premier League, too, stand canceled.
Amid utter devastation, Dana White seemed fully confident of running his organization and its events as per schedule.
He said that the UFC is using all measures necessary to ensure a safe environment for everyone involved in the events. And he stressed that UFC will not cancel the events.
Dana has repeated himself in every interview that demanded his presence. Even the fighters on the Roster were in his support.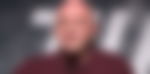 But all that was until last night.
The UFC finally announced today that it will postpone three of its upcoming events, namely UFC Portland, UFC London, and UFC Columbus.
Thus, UFC 249 is still in the green. But that may change in a matter of seconds. Khabib vs Tony is one of the most-awaited and biggest fights of this generation. But how much can the UFC do to carry out the event?
ADVERTISEMENT
Article continues below this ad
The pandemic is as surreal as it can get. Various counties are undergoing lockdowns to tackle this menace. While the organization's attempts at ensuring the success of the event are commendable, the UFC must ensure that it can live up to its claims of ensuring complete safety.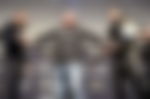 And therefore, Khabib Nurmagomedov vs. Tony Ferguson yet again is more likely to be canceled than not. The history of this matchup is so unfortunate, it almost makes one feel that it is cursed.
ADVERTISEMENT
Article continues below this ad
Do you think a fixture between the two will materialize the fifth time around?