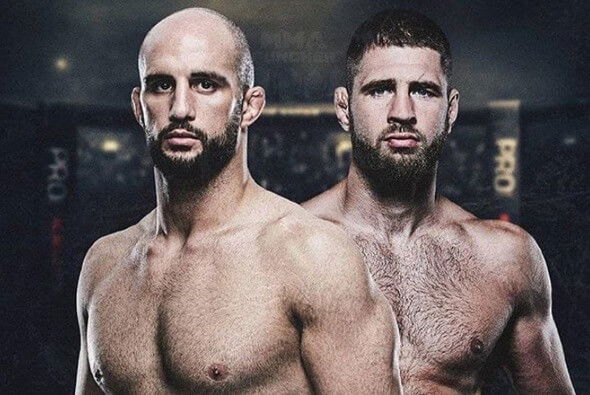 There is absolutely no doubt that UFC 251 main card has the potential to be a barn burner. However, did you know that UFC 251 prelims are stacked as well? The preliminary card features some of the best fights in the UFC. It is worth noting that this article does not include the early prelims.
Leonardo Santos vs Roman Bogatov
Santos and Bogatov will kick things off. Santos is more than a decade older than Bogatov. He was a part of The Ultimate Fighter: Brazil 2. The Brazilian's most notable win came through Kevin Lee. He defeated Lee in the first round via a TKO at UFC 194. As of now, he is on a five-fight win streak. His last match took place more than a year ago.
Bogatov is undefeated in his pro mixed martial arts career. He will make his UFC debut on Fight Island. He is yet to make his presence felt in the big leagues. Santos might be the perfect opponent to test him. Both fighters will look forward to establishing their dominance on the ground. With experience on his side, Santos should win.
Winner: Leonardo Santos (Unanimous Decision)
Makwan
Amirkhani vs
Danny
Henry
Amirkhani (15-4) and Henry (12-3) will battle it out at featherweight. Both Amirkhani and Henry have stable careers. They haven't lost two consecutive matches yet. However, they have lost their previous bouts. Amirkhani is coming off a loss to Shane Burgos whereas Henry lost to Dan Ige more than a year ago.
Amirkhani is dangerous on the ground. 10 of his fifteen wins came via submissions. Henry, on the other hand, is well rounded. But it will be difficult for him to keep Amirkhani off him.
Winner: Makwan Amirkhani (Submission, Round 1)
Elizeu Zaleski dos Santos vs Muslim Salikhov
This bout could be a barn burner. Zaleski and Salikhov have a combined total of 26 knockout victories. Salikhov has not fought since October 2019. The Dagestani will look forward to extending his win streak to 4. Zaleski last fought in March and won via a unanimous decision.
Both men pack some serious heat in their punches. One punch from either man can end the show. Ultimately, the fighter with the better chin will win.
Winner: Muslim Salikhov (KO, Round 2)
Volkan
Oezdemir vs
Jiri
Prochazka
Former UFC title challenger Volkan Oezdemir will welcome Rizin star Jiri Prochazka to the UFC. After suffering three back-to-back losses, Oezdemir bounced back and defeated Ilir Latifi and Aleksandar Rakić. He is known for his brutal power and is widely regarded as a knockout artist.
Prochazka has made a name for himself in Rizin. He is on a ten-fight win streak. 23 out of his 26 victories came via KO/TKOs. Realistically speaking, this bout is unpredictable. Both athletes can knock each other out. However, Volkan has fought better competition than Prochazka.
Winner: Volkan Oezdemir (KO, Round 1)
Continue the conversation on the app, join other MMA fans on MMA Fans App