UFC London to Go on as Planned- Confirms Dana White
Published 03/14/2020, 2:28 AM EDT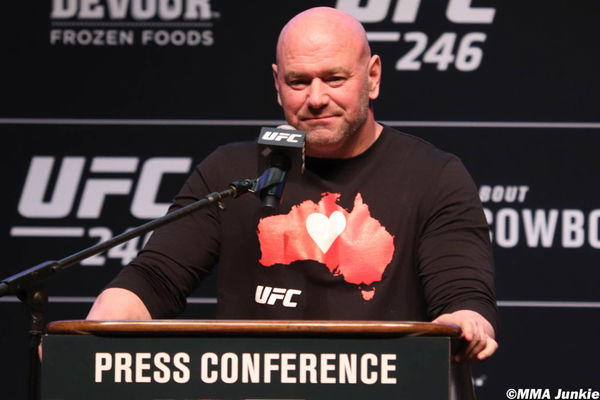 ---
---
Dana White, the UFC president, has finally taken a call and is choosing to go forward with its plans for events following the spread of coronavirus.
ADVERTISEMENT
Article continues below this ad
The spread of coronavirus has caused a great disruption across the sporting world as events are moved behind closed doors, security measures are introduced and fresh questions are raised about the viability of further events.
The company's president says about the UFC Fight Night 171 event, which is set to take place on March 21 in London, England, that it will go on as planned with fans in attendance.
ADVERTISEMENT
Article continues below this ad
The event will feature welterweights Leon Edwards and former champ Tyron Woodley.
It remains to be seen as to whether the situation changes or not in London given the continuous development and security measures taking place.
White further confirms that their company will continue working closely with the UK government.
Furthermore on the Brazil event, White confirms that UFC Fight Night 170 on March 14 Saturday in Brasilia will go forward with no fans in attendance.
"I talked to the president and vice president," White says about his meeting with Donald Trump and Mike Pence. "They said be careful, be cautious, but live your life and stop panicking."
"Instead of panicking, we're working with health officials and the government."
Regarding the health and safety of athletes, Dana White says that all combatants will go through the necessary procedure to avert the risk.
"We are working directly with NSAC and director, Bob Bennett, on implementing a process to screen athletes before they compete."
"One of the things we always do is look out for the health and safety of our fans, or athletes, whatever it might be."
ADVERTISEMENT
Article continues below this ad
"Obviously, this thing going on, we are going to do the same thing. We are going to make sure that two healthy athletes are competing." White adds.
Is UFC 249 safe?
ADVERTISEMENT
Article continues below this ad
Dana White didn't mention plans for the mega event which will feature Lightweight champion  Khabib Nurmagomedov and Tony Ferguson on April 18 but given the whole situation, it could be shoved to a later date and will most likely hit UFC's Apex Center.