"UFC Won't Put This on Their Official Page"- Tyron Woodley Hits Out at UFC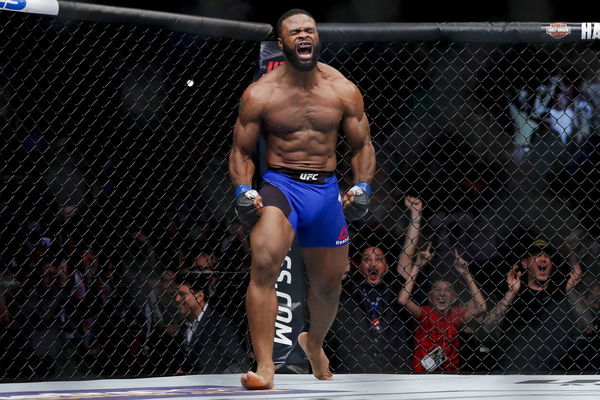 UFC Welterweight contender, Tyron Woodley recently took to Twitter to criticize the UFC for protecting Robbie Lawler. He accuses the promotion of refusing to share a video in which "their boogie man" is losing.
Back in July 2016, Woodley claimed the coveted title at UFC 201 in the State Farm Arena, Atlanta. Woodley went on to retain his title through 4 fights. However, his tenure as the welterweight champion ended in 2019. When Kamaru Usman seized the title out of his hands at UFC 235 in Las Vegas.
Despite having the video of his stunning win posted on the UFC Espanol page. The Chosen One is not content because he feels the UFC is unwilling to share the clip on their main Twitter account.
ADVERTISEMENT
Article continues below this ad
"Funny how @ufc won't put this on their official page. God forbid they show their boogie man getting his shut pushed in (pause)"- Tyron Woodley on Twitter
Tyron Woodley Eager to Step Back Into the Octagon
It is no secret that T-Wood has been dying for an opportunity to go toe to toe with someone in the octagon. Because at the age of 38, time is not on the American fighter's side.
He has faced the reshuffling or delay of a series of fights. One of them being a rematch with Robbie Lawler. Woodley was looking forward to a return to the octagon at UFC London.
However, the fight failed to materialize due to the Coronavirus pandemic. Woodley robbed of a fight was looking to headline the event alongside Leon Edwards.
As of now, Woodley has no plans of fighting anytime soon. However, he has been trying hard to bag a spot in the upcoming UFC 249 roster.
ADVERTISEMENT
Article continues below this ad
Woodley spent the better half of his evening on April 21st calling out Israel Adesanya on social media. The two fighters went back and forth and saw comments from some of their colleagues as well. Both Dan Hooker and Kamaru Usman jumped in on the action.
ADVERTISEMENT
Article continues below this ad
UFC 249 is a distant sight and the path is murky with uncertainty. However, anything can happen between now and then. A fight between Israel Adesanya and Tyron Woodley seems rather unlikely.
However, the verbal exchange between the two fighters may have just lit the proverbial candle for what might become a reality.