WATCH: Brian Kelleher Knocks Opponent Out Cold With a Vicious Left Hook
Published 05/13/2020, 9:17 PM EDT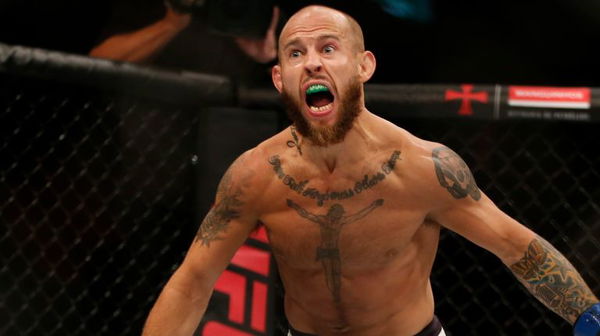 The UFC is going full steam ahead with its second event in a week. Sports starved fans are absolutely delighted with the successful organization of the events. The preliminary card gave fans their first knockout in the Brian Kelleher vs Hunter Azure fight at 3:38 in the second round. 
ADVERTISEMENT
Article continues below this ad
Watch: Marvin Vettori Goes off on Karl Roberson Post Fight Cancelation
Brian Kelleher wins by Knockout at UFC Fight Night: Smith vs Teixeira
ADVERTISEMENT
Article continues below this ad
The fight was a Featherweight bout, which is alien to both fighters, who primarily compete at Bantamweight. In the first few minutes, it never seemed as though this was coming as 'Boom' was going for clinches. However, he spoke about the same in the post-fight interview. "I am always a slow starter but, as soon as I found my range and confidence, it was a different fight. The left hook was picture perfect."
It certainly was a slow start. The bout started with both fighters attempting to go for kicks before 'Boom' advanced with a combination and locked in a clinch. It is a move he persisted with, however Azure kept escaping. When 'Boom' saw Azure was up for a striking game, he even resorted to a takedown.
ADVERTISEMENT
Article continues below this ad
However, it didn't work as the fighter used all the space in the Octagon to his advantage. He backed away to the cage and escaped. Towards the end of the round, Azure slipped and 'Boom' unloaded on him before the buzzer saved him.  
However, things changed in round 2. 'Boom' elected to go for standup striking and opened the period with a leg kick and a big right. Azure went for the clinch this time round and just as he did in the first round, his opponent too managed to escape.
Around the 3:30 mark, 'Boom' landed a left flush on the side of Azure's face. This was the last piece of the action in the Flyweight encounter as the referee leaped in to protect Azure, who went crashing onto the canvas. 
ADVERTISEMENT
Article continues below this ad
The win was 'Boom's first via KO in the UFC. He also won his 5th fight in Dana White's organization. As a result of being knocked out, Azure's unblemished 8-0 MMA streak is over.