WATCH: Insane Knockout As Beneil Dariush Drops Drakkar Klose Like A Brick At UFC 248
Published 03/07/2020, 11:43 PM CST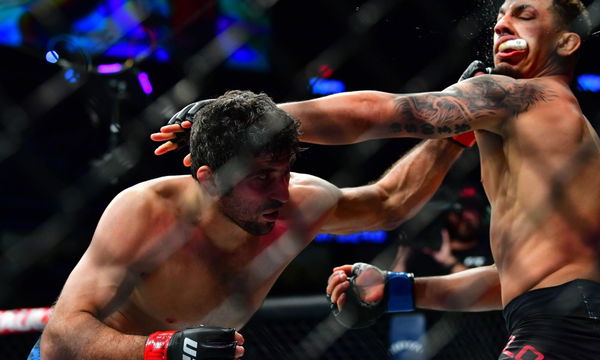 ---
---
UFC 248 is underway. And it keeps getting better and better with every passing minute. The Iranian southpaw Beneil Dariush took on Drakkar Klose and presented an extremely exciting fight.
ADVERTISEMENT
Article continues below this ad
Both fighters coming off of 3 win streaks locked horns at the T-Mobile Arena in Las Vegas, Nevada. A great bout with the winner looking to make it onto the Top 15 rankings.
The action kicked off with a kick from Beneil Dariush followed by 2 hard shots to the head. Unsurprisingly the submission specialist proceeded to get a win by climbing onto the back of the American. Klose pranced along the cage with Dariush perched on his back all along.
ADVERTISEMENT
Article continues below this ad
Beniel Dariush kept pressuring Klose with a choke as he hung onto the back of the American, who struggled to keep the Iranian's arms away from each other. Dariush almost managed to close out a rear naked-choke on Klose on numerous occasions but failed to cement his grip.
Klose somehow managed to keep Dariush from stealing the win, all this while he had the latter draped on his back.
The second round lasted a minute that may have seemed like a lifetime to both the fighters. For the fight could have gone either way in the initial seconds of the match. Klose looked to push the pace of the game getting multiple clean shots in.
In the midst of a storm of punches from Klose, Dariush managed to get one hit in that sent Klose stumbling on his backfoot. That was the beginning of the end for Klose. Klose countered with a hard right hook but to no avail. Dariush continued to follow him to the cage and connected with a hard left hand that dropped Klose, for good.
ADVERTISEMENT
Article continues below this ad
Dariush came back from the abyss of almost getting knocked out and registered his win.
ADVERTISEMENT
Article continues below this ad
The bout sent Daniel Cormier sprawling into the lap of Joe Rogan and rightly so. Many thought the lead up to the main event of UFC 248 would be dull. But as of now, it has turned out to be anything but dull.