Watch: Insane Suplex During UFC 248 by Mark Madsen Impresses Daniel Cormier
Published 03/07/2020, 10:50 PM EST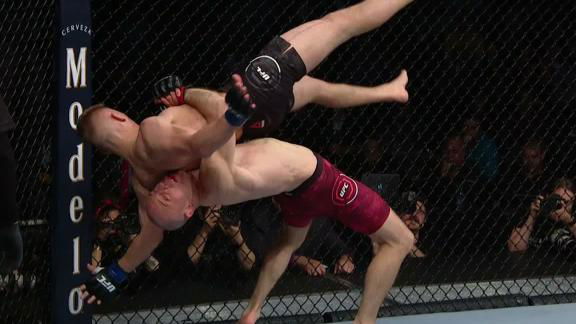 ---
---
The much-awaited UFC 248 is finally here. With some amazing fixtures lined up for the fans throughout all cards, the night already has the fans sitting at the edge of their seats.
ADVERTISEMENT
Article continues below this ad
One such fight was the bout between Mark "The Olympian" Madsen and Austin Hubbard. The Lightweight bout started with Hubbard landing a huge right kick that literally spun Madsen around. Madsen replied with a swift jab of his own.
It seems like Madsen came extremely focussed on the fight. Employing his strength to the very outset, it did not take him more than 30 seconds of the first round to grab a hold of his opponent.
ADVERTISEMENT
Article continues below this ad
Daniel Cormier is impressed with Mark Madsen
He then proceeded to dominate by employing his superior wrestling skills. The Olympian displayed his prowess by executing a spectacular suplex. The former heavyweight champion, Daniel Cormier could not help but give Mark five points for an impressive suplex from Madsen.
Much of the first round proceeded with Hubbard struggling to break free of Madsen's incredible grappling game. 10-9 Madsen.
Round 2
The second round pretty much followed suit. While Hubbard was able to land a huge knee right to Madsen's head, the rest of the round was mostly spent on the ground by him.
Yet, Hubbard did display impressive defense against Medsens grappling technique. The two fighters finally got back up to their feet. The round ended with another attempt at landing a knee by Hubbard, which was blocked by Madsen. 20-18 Madsen.
Final round
The tide turned in favor of Hubbard in the last round. The fight started with the two exchanging blows, with Hubbard making more strike count. Madsen took down his opponent yet again, but Hubbard managed to get back up much quicker.
Hubbard landed a huge strike right to the head of Madsen, dealing immense damage. Finding his momentum, Hubbard landed another huge blow.
ADVERTISEMENT
Article continues below this ad
With Madsen's dominance fading fast due to the impeccable strikes delivered by Hubbard, he executed another takedown, though not as effective as the previous ones.
Hubbard then attempted a stepping knee, which was countered by Madsen. Hubbard was looking to put an end to the fight by delivering deadly strikes, but to his distaste, the fight was called to a halt.
Mark Madsen remains unbeaten in the UFC
ADVERTISEMENT
Article continues below this ad
Mark Madsen won the fight via unanimous decision. The fighter is an Olympic Silver-medallist in the art of wrestling and has a clean MMA record to-date. The victory over Austin Hubbard earned him his second UFC victory and 10th MMA victory, with zero losses in both spheres.