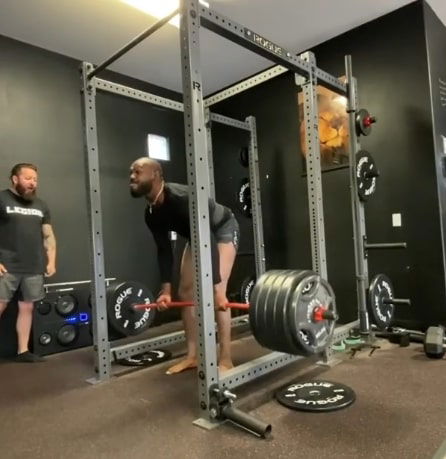 Despite comments indicating his unhappiness with the UFC and talks about him taking a hiatus from the sport, Jon Jones remains signed with the company. He continues to work out to be ready at short notice. Recently, the Light Heavyweight Champion shared a video of him performing an insane deadlift at his gym.
Jon Jones performs a phenomenal deadlift
'Bones' shared the videos on Instagram. Here, he mockingly dared haters to call the USADA. This is an organization with which the top-ranked pound for pound fighter has run afoul with in the past. 
In the first video, 'Bones' gets his grip on the rod before performing a deadlift for a few seconds. He then lets the barbell drop onto the floor. 
In the second video, there are only 3 weights on either side of the rod instead of the four in the first deadlift. The weight seems even more manageable to 'Bones' who proceeds to do an entire set of 10 reps. After this the camera zooms into his t-shirt, focusing purely on the word "Man official."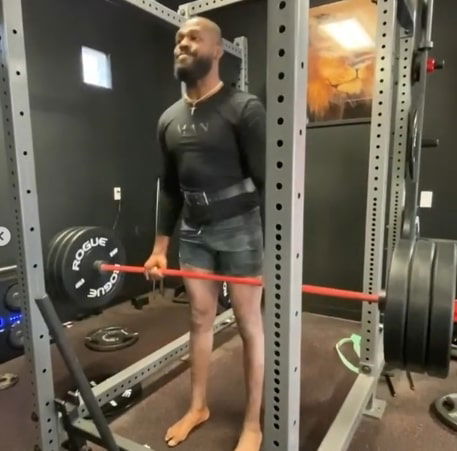 The Light Heavyweight Champion's last defense came at UFC 247. Here, he beat Dominick Reyes via unanimous decision in what many consider as a shocker. Dana White said he scored the bout in favor of Reyes and indicated that a rematch is on, given the polarizing nature of the result.
'Bones' however, maintains that he is done with 'The Devastator' and sheds light on Jan Blachowicz being his next challenger. 
Also, murmurs of a move to Heavyweight to fight Francis Ngannou were doing the rounds. However, both fighters took to Twitter to express disappointment at the UFC being unwilling to loosen their purse strings for the match. 
The UFC is keeping their cards close to their chest and fans are in the dark over who Jon Jones will face next. However, after watching his frequent workout videos they can be assured that 'Bones' means business and has no intention of dropping his belt or having close fights again.
He wants to put all doubts to rest and dominate. What do you make of Jon Jones' amazing workout?
Continue the conversation on Telegram, join other MMA fans on MMA Fans Group