WATCH: Jon Jones Showcases His Insane Strength in Latest Workout
Published 05/27/2020, 3:02 AM EDT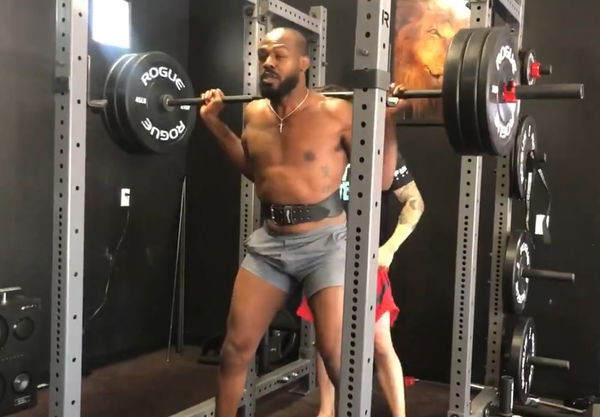 ---
---
Jon Jones is unhappy with the UFC over their apparent stinginess regarding a potential fight with Francis Ngannou. He even hinted at walking away from the sport once his deal ends. However, like a true professional, he still continues to work out and be ready for a return to the Octagon.
ADVERTISEMENT
Article continues below this ad
Jon Jones shares superhuman workout video 
The UFC Light Heavyweight Champion posted the video on Twitter. He wrote, "Trying to get comfortable repping out those heavy weights."
ADVERTISEMENT
Article continues below this ad
In the video, fans can hear Trip Lee's 'Manolo' blaring out on the speakers as Bones engaged in weight training. Here he has a noticeably different grip from his deadlift video a few days ago. 
Based on 'Bones' expression, fans can realize that he has switched the weights on the barbell. The grimace on his face is visible as he begins the set. He takes a few steps backward to steady himself. 'Bones' proceeds to do a set of 5 crouches with the barbell before setting it to rest and walking to the side. 
The top-ranked pound-for-pound fighter last competed at UFC 247 in February. Here he beat Dominick Reyes in what is now considered to be a polarizing decision. 'Bones' repeatedly says he has moved on and declared his intentions to face Jan Blachowicz next. However, as per UFC President Dana White, the company is seriously considering a rematch.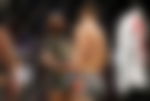 ADVERTISEMENT
Article continues below this ad
In addition to this, fans could read in "heavy weights" as an indication that he still intends to move up a division. 
Perhaps he is just working out as he likes to stay in shape after so many years of fighting. Nevertheless, MMA fans will be enthused as they know 'Bones' doesn't intend on being a keyboard warrior for the next few months. He wants to fight and enhance his already monumental legacy in the UFC. 
When do you think Jon Jones will be back in the Octagon? Will it be a UFC Light Heavyweight title defense? Or will we see the blockbuster clash where he takes on 'The Predator?'
ADVERTISEMENT
Article continues below this ad
WATCH: Jon Jones Performs a Phenomenal Deadlift in His Latest Workout Video