Watch: Khabib Nurmagomedov Admits to Cheating in a Wrestling Match
Published 03/04/2020, 11:01 AM EST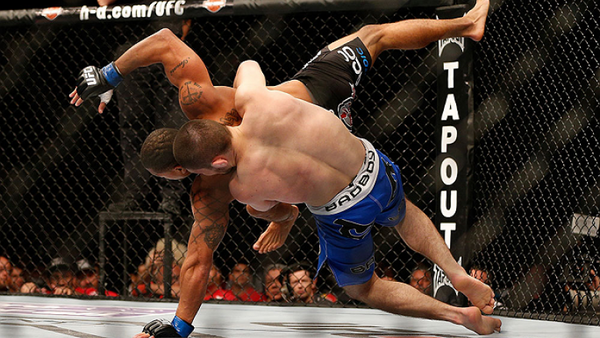 ---
---
Khabib Nurmagomedov is arguably one of the best wrestlers in mixed martial arts today. Recently, he went one on one with the #1 high school wrestler and completely dominated him. However, he did it with a little bit of cheating.
ADVERTISEMENT
Article continues below this ad
Khabib is the current UFC lightweight champion with an undefeated record of 28 victories. He has dominated his opponents with his superior wrestling and grappling for years. Hardly any fighters could give him a good challenge.
Chase Saldate of Gilroy High school competes in the 152 division. Intermatwrestle.com ranked him as #1 in the nation.
ADVERTISEMENT
Article continues below this ad
Daniel Cormier, who is the head coach of Saldate, put one of his best high school wrestlers against one of the best wrestlers in the UFC, Khabib Nurmagomedov. Both men faced each other inside the American Kickboxing Academy gym.
Although Saldate has won many championships in his young career, he was no match to UFC's Khabib Nurmagomedov.
Khabib Nurmagomedov takes on Chase Saldate
Before the match, Khabib and DC can be heard mocking each other in this funny video.
"The Grim Reaper comes for you and his name is Chase Saldate," Cormier shouted at Khabib.
"All bums. What are they gonna do?" Khabib said in a calm tone.
Watch the video below
Although Khabib controlled Saldate for the majority of the match, Saldate did come close to securing a takedown on the Dagestani.
"I almost took you down," Saldate told Khabib. The Eagle agreed with Saldate.
Khabib was able to pin Saldate twice. However, he admitted to cheating in the match by locking his hands.
ADVERTISEMENT
Article continues below this ad
"First time wrestling style pin. The second was a little bit cheating," Khabib told Cormier.
This was not the first time Saldate trained at AKA. He has wrestled with Khabib's teammate Islam Makachev before. Although Saldate believes that Islam was an easier opponent, he was tossed around in that bout as well.
Saldate is already one of the best freestyle High school wrestlers, but MMA wrestling is a completely different game. However, if he transitions to MMA, he can give many fighters a run for their money.
ADVERTISEMENT
Article continues below this ad
What do you think of Chase Saldate? Do you think he will ever compete in the UFC?