The UFC Welterweight division saw changes in the rankings. Thanks to his dominant win last Saturday, Gilbert Burns jumped 5 spots from 6th to 1st. Colby Covington and Jorge Masvidal maintained their spots at 2nd and 3rd respectively. However, Tyron Woodley fell from being the top-ranked contender to the 4th on the list.
Safe to say 5th ranked Leon Edwards wasn't pleased with 'The Chosen One' being ranked above him. He voiced out the same before being silenced by the 38-year-old former champion. 
Tyron Woodley silences Leon Edwards 
'The Chosen One' retweeted a video featuring Edwards' post-fight altercation with 'Gamebred.' He wrote, "Watch to the end and you will see why. Like the other, 4.5 million people use as what "NOT" to do if something pops off."
He put out the comment in response to 'Rocky' saying, "How's a guy coming off 2 back to back dominating loses above me"
https://t.co/1s3DVGlRJ0
Watch to the end and you will see why. Like the other 4.5million people use as what "NOT" to do if something pops off. https://t.co/DkcdfNF7aC

— Tyron T-Wood Woodley (@TWooodley) June 2, 2020
At the UFC Fight Night in the O2 Arena, 'Rocky' beat Gunnar Nelson via split decision in the co-main event. Later, he passed a snide comment at 'Gamebred' at his post-fight interview with Laura Sanko. The 3rd ranked Welterweight took offense and opened up a cut on 'Rocky' in the ensuing scuffle. 
It is evident that 'The Chosen One' is highlighting a lack of class as the reason 'Rocky' languishes at 5th despite an 8 fight win streak. Furthermore, Edwards has been inactive for nearly a year since appearing at the main event against Rafael dos Anjos last July.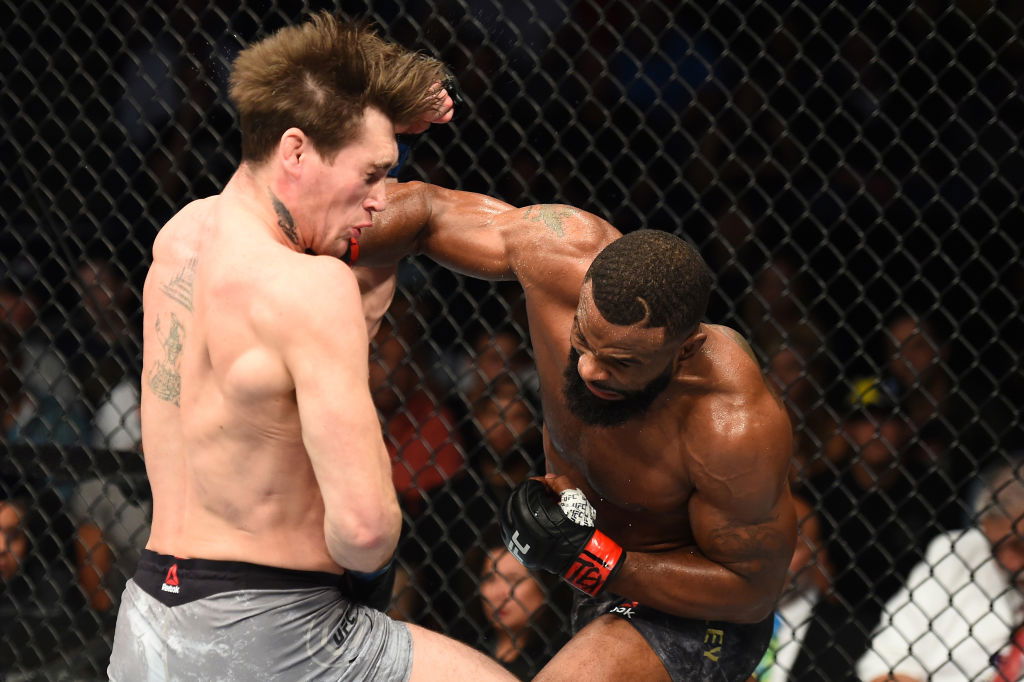 Woodley though has yet to taste a victory in nearly 2 years since his last successful defense over Darren Till. 'The Chosen One' won the fight via D'arce choke. 
Based on their rankings, it seems as though a Woodley vs Edwards match will go a huge way in determining the pecking order for the Welterweight Championship. The duo was set to meet at UFC London which was the first to be called off following the coronavirus outbreak. 
However, their fight could be back on once 'The Chosen One' serves his 45-day medical suspension.
Can Tyron Woodley arrest his career slide? Or will it be yet another nail in the coffin for the former Champion?
Continue the conversation on the app, join other MMA fans on MMA Fans App