WATCH: Twitter Trolls Yoel Romero Over Hilarious Video
Published 03/10/2020, 6:13 PM EDT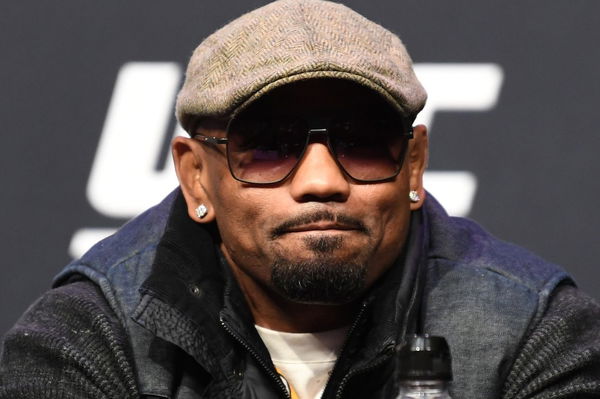 ---
---
Yoel Romero has become quite the media sensation, owing to the unique things he says in interviews.
ADVERTISEMENT
Article continues below this ad
One such interview he was part of was hosted by Phil Murphy. In the video, the
Soldier Of God
can be seen giving a deeply impacting and inspirational message.
In the video, Yoel says that it is possible for anyone to accomplish whatever they set their mind to, as long as they believe in themselves.
ADVERTISEMENT
Article continues below this ad
"Muhammad (Ali) (had) the best defense in the Heavyweight. The best moves. But, short man (probably Frazier), diddy boxing. He beat him one time."
"When you believe, everything is possible", he said to Murphy. "You have two hands, like me. Everything is possible. Go. Go, and get what you (want)."
Yoel Romero never ceases to amaze us with his answers. How he connects questions based on fights to life lessons is simply out of the ordinary.
More often than not, the person listening to these answers suddenly finds oneself in an awkward situation. Yet, the interviewer can't offend Yoel by expressing unhappiness at the sudden change of topic and thus, usually tends to employ the "poker face".
Phil Murphy reacts to "Saint" Yoel Romero
Phil Murphy took to Twitter to hilariously convey what was going through his mind during the interview. In a video of the interview with Romero, Murphy showcases his attempt at trying to keep a straight face while Yoel carries on with the teachings of life.
In an absolutely hilarious depiction of what the interviewer goes through, one can see Murphy struggling to maintain a subtle smile while Romero asks him to 'use both his hands, believe in himself and get what he wants.'
ADVERTISEMENT
Article continues below this ad
Well, surely, neither his belief nor his hands would have been able to get Murphy what he wanted at that point in time because it is pretty clear that all he wanted was for the interview to be over!
Well, Murphy, a guy's gotta do what he's gotta do. You can't run away from the job. Besides, what Yoel said does hold true to a great extent.
For example, Israel Adesanya believed that he could get Yoel's head on his mantel, and he did! Also, fortunately enough, he didn't break himself in the process.
ADVERTISEMENT
Article continues below this ad
Do you think Murphy was successful in pulling off the poker face?