WATCH: When Israel Adesanya Couldn't Stop Crying After His Victory
Published 03/04/2020, 3:08 PM EST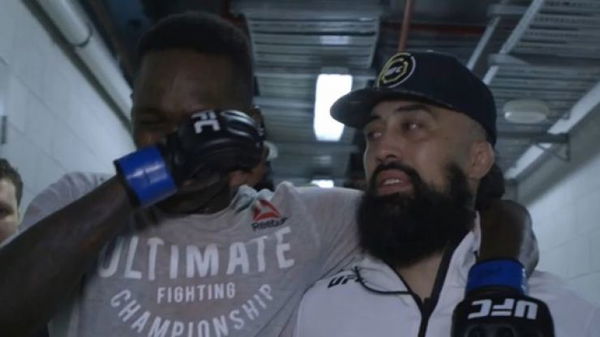 ---
---
When Israel Adesanya made his UFC debut in 2018, he already had a decent combat sports experience. It showed when he fought Rob Wilkinson at UFC 221 in February 2018.
ADVERTISEMENT
Article continues below this ad
Wilkinson had as many as 16 takedown attempts on the debutant on the night but Adesanya managed to defend himself. Adesanya eventually knocked his opponent out in the second round. He landed an uppercut and a knee when Wilkinson's nose started to bleed. Adesanya continued to land punches and knees until the referee ended the fight. At 3:37 seconds of the second round, Adesanya won via TKO.
His arrival was indeed a memorable one. "Attention all middleweights, I'm the new dog in town and I just pissed all over this cage," he said in his post-fight interview.
ADVERTISEMENT
Article continues below this ad
As Adesanya was walking away after his UFC debut, tears rolled down his eyes.
Israel Adesanya to fight Yoel Romero at UFC 248
Since his debut in 2018, Adesanya has come a long way in UFC. He is currently the UFC Middleweight Champion and is set to fight his first fight in 2020 against Yoel Romero. The middleweight bout is the featured fight at UFC 248 scheduled for March 8.
ADVERTISEMENT
Article continues below this ad
Considering the kind of fighters they are, it seemed surprising that Adesanya called out Romero for a fight.
"Israel Adesanya wants to fight Yoel Romero, how does that make sense? It doesn't make sense," White said at recent a news conference. "You know what makes sense? Israel is such a badass, he wants to fight the guy nobody wants to fight."
For Adesanya, it is just about going on fighting. Appearing in Ariel Helwani's MMA Show ahead of his fight against Romero, he said that he would be willing to fight anyone- friend or foe.
ADVERTISEMENT
Article continues below this ad
"I'd fight my grandmother but she's dead," he said. "Eventually some of these guys are going to get hit. Whether you are a buddy or an enemy, beef or no beef or vegan or whatever. At the end of the day, everyone's gonna get it."