WATCH: When Kevin Lee Came Back With an Impressive Knockout Win
Published 03/11/2020, 4:55 PM EDT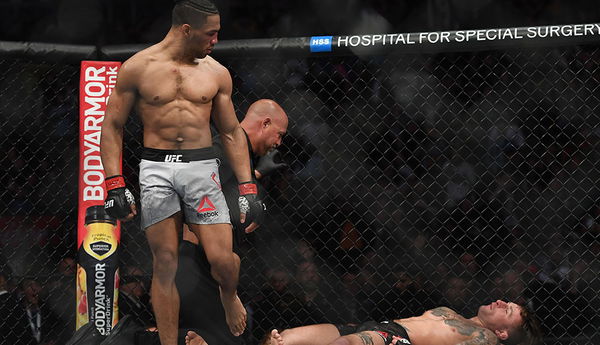 ---
---
In 2018, Kevin Lee had a fight against Gregor Gillespie in a starstudded main event that included the likes of Nate Diaz and Jorge Masvidal at the UFC 244 in 2018.
ADVERTISEMENT
Article continues below this ad
The UFC 244 match held in 2018 was a fight between two well-known wrestlers. Viewers expected the fight to have a number of grapples, the final outcome of the match disappointed them. Gillespie that the fight was lackluster, admitting he wanted more from the well-matched bout.
"I think a lot of people thought that was going to be the fight, just grappling, right," Gillespie had told MMA Junkie after the fight. "So that was kind of the general consensus that there was going to be grinding out, hanging on each other, pulling each other, tangling and scrabbling type of fight, but it was the exact opposite. I took one shot, didn't even come close, came right back up and went back to striking."
ADVERTISEMENT
Article continues below this ad
Gillespie's tactics did not seem to work well for him as he lost in the first round. Kevin Lee, after two successive losses, won the fight against Gillespie at 2:47 of Round one via TKO.
Kevin Lee is up against Charles Oliviera; Oliviera is ready for it
Lee, the current #8 in the UFC lightweight ranking, is set to fight against Charles Oliviera a year after his match with Gillespie. The fight, scheduled for March 14, is the main event of Fight Night 170.
The fight will be different for Lee, whose primary strength remains grappling. His opponent Olivier is aware of Lee's strengths and seems prepared for it.
ADVERTISEMENT
Article continues below this ad
"I think Kevin Lee is an excellent fighter who fights well on the feet, has evolved in that area," Oliveira said ahead of his fight against Lee. "But his strongest weapon is wrestling, not jiu-jitsu. He puts so much pressure that people end up breaking, giving their backs, so he goes there and do what he does best, which is submit.
"I think I'll be able to show how much I've evolved on the feet in this fight. I can show him that. We'll make sure he gets lost on the feet and I score a great victory."
ADVERTISEMENT
Article continues below this ad