"We Always Go Overboard"- Dana White Says UFC Will Not Stop Despite Coronavirus Threats
Published 03/13/2020, 4:32 AM EDT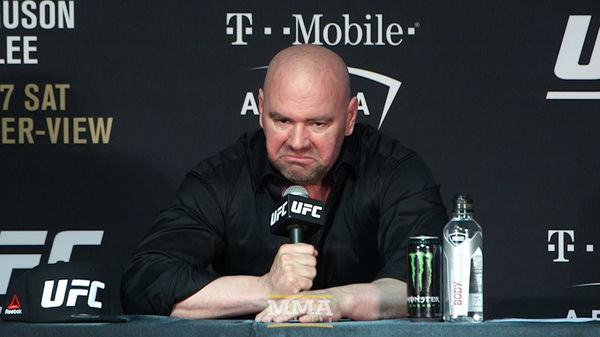 ---
---
The UFC is an organization that will not back down in the face of adversity. Much like the fighters in its roster, the UFC vows to face problems head-on. The global pandemic, Coronavirus has forced the UFC to take some tough decisions.
ADVERTISEMENT
Article continues below this ad
Pulling the plug on the pre-fight festivities ahead of the UFC Fight Night 170 in Brasilia being at the center of it. The number of people involved in the event will be limited to the indispensable staff. The decision is a response to the government's decree of suspending gatherings of more than 100 people.
As everything stands now, the UFC will not be allowing the media to cover the event from inside the arena. The fighters will be available to answer questions following their fight in a particular "media room" in the host hotel.
ADVERTISEMENT
Article continues below this ad
Media members will not be allowed to enter the arena to cover UFC Brasilia on Saturday night, the UFC just announced. Instead, there will be a media room at the host hotel where fighters will be available for post-fight scrums.

— Guilherme Cruz (@guicruzzz) March 13, 2020
Steps Taken By The UFC To Ensure Safety
The UFC has been taking multiple steps to ensure the safety of their fighters and staff. The organizational committee will be screening athletes before they compete.
"So one of the things we always do we're always looking out for the health and safety of our fans, our athletes… We're gonna make sure that two healthy athletes are competing and these guys are good to go."- Dana White
When it comes to athletes competing in close proximity, the UFC deals with the highest form of interpersonal contact there is. Therefore it is no stranger to taking care of health issues and injuries.
"This just isn't now because of the Coronavirus that we're going to do extra health and safety. We always go overboard with health and safety. And that's what we're going to do here."- Dana White
ADVERTISEMENT
Article continues below this ad
White explains that they have been working with a new form of technology that employs "infrared" to check the temperatures of people entering the arena. And anyone who is found with a temperature higher than normal is flagged and taken aside to be checked by medical professionals.
Watch This Story
White claims that he has been in contact with the President and the Vice-President of the United States, who urge him to be careful and cautious but also live life to the fullest. Which is what they advise the people to do as well.
ADVERTISEMENT
Article continues below this ad
White adds that the UFC has been getting in touch with health and government officials to make sure they conduct themselves in the safest way possible.