"We Are at the 60 Yard Line" – Colby Covington Trolls Himself
Published 03/18/2020, 4:10 PM CDT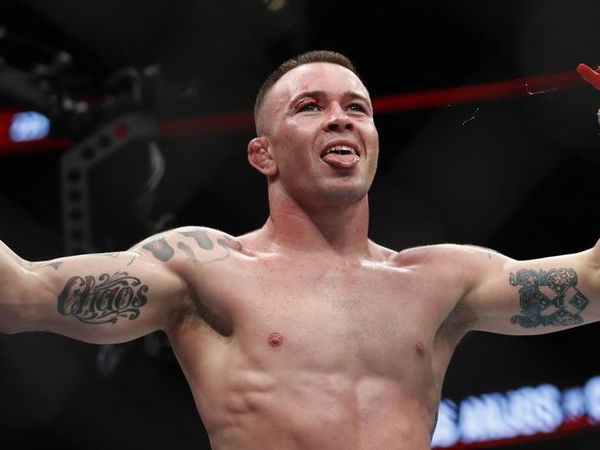 ---
---
When it comes to trash-talking, a very few people are good at it. UFC welterweight, Colby Covington is known to get under people's skin with his trash talk. However, a recent video of him showed that even the best slip up at times.
ADVERTISEMENT
Article continues below this ad
At one point, Colby Covington was just another name in the UFC. Although he possessed great talent, nobody knew who he was. The UFC was on the verge of firing Covington.
What happened next was a career turnaround. After his win over Demian Maia, Covington went on a rant. He dissed the entire arena and gained a lot of attention. But, Covington did not stop at that. He went after everyone. From fans to close friends, he spared none.
ADVERTISEMENT
Article continues below this ad
Recently, the UFC announced that the fight between Tyron Woodley and Leon Edwards was off because of the coronavirus Pandemic. The company attempted to shift the card to the United States but due to the travel restrictions, Edwards could not enter the States. The UFC tried to find a replacement.
Did Colby Covington dig his own grave?
Covington was one of the first men to put his name in the hat. Although the card is officially postponed, 'Chaos' had shown keen interest in fighting Woodley on social media.
In an interview with Ariel Helwani, Covington revealed his stand while drawing trying to draw an analogy with a football field. However, it did not turn out well for him.
"I get the analogy you are saying. Not a lot of virgins or guys that are in their mom's basement understand that. Or the other MMA journalists who wish to be at the Comicon…(but) I do get that."
As always Covington tried to take a dig at his haters. And prove that his understanding of football is greater than the fans or other journalists. But, what followed next is hilarious.
"I would say we are probably at the 60-yard line. We were at the 50-yard line yesterday, we moved to the 60-yard line."
What? Did he just say the 60-yard line? There is no 60-yard line in football. Fans, as well as fighters, had a field day on twitter. Check out some of the reactions.
From the 50, 60…. to the 90 touchdown 💀😂😂😂

— Derek Brunson (@DerekBrunson) March 17, 2020
ADVERTISEMENT
Article continues below this ad
Someone has to start writing for him again.

— Will Brooks (@ILLxWillBrooks) March 17, 2020
According to Tyron Woodley, UFC president Dana White said that Covington was just having fun and did not want to fight him. However, Covington was adamant to fight Woodley.
ADVERTISEMENT
Article continues below this ad
Do you feel Covington wants to fight Woodley?